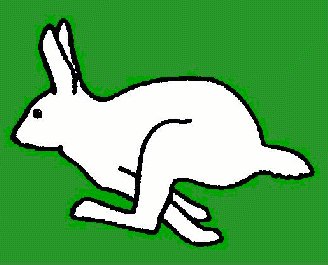 THE HARRIERS HERALD
No. 158, April 2006
Editorial
Welcome to April's Harriers Herald.

 

We begin with a brief report of a very successful Compton Challenge event, which was once again a great effort by all involved – I'm sure Dick will have much more to say this Thursday.

 

Thursday night schedules for April and May are followed by Secretary's correspondence.

 

There are four race reports this month – three written by Susanne.

 

She reports on team success in the Dursley Dozen, and on her own excellent performances in the Banbury 15M road race and the Silverstone Half Marathon.

 

The Grizzly also took place in March, and I've written all about our fun weekend in Seaton.

  

The final race of an exciting Winter Handicap Race series has taken place and you can see who won on page 6.

 

Mo's Website Update and Events Diary feature the Charlbury Charity Challenge and a host of other races taking place throughout the summer months.
Finally, best of luck to Sus, Sue P and Martin who will all be running in the London Marathon on 23rd April, and thanks to Sus and Mo for writing half of this month's Herald for me!
Breaking News!! Compton Challenge a great success again
The 11th Compton Challenge races, under their new guise of 'The Full Fat Forty' and 'The Bare Bones Twenty' were very successful events.  The weather was quite reasonable for the morning, but rain and wind in the afternoon meant most of the 40-milers got rather wet.  Most of the Harriers were helping out this year, so Colin was our only representative.  He ran very well to take third spot (and first MV40) in The Bare Bones 20, in .  Brief results are below:
BB20               1st man             Andy Mackaskil, Wargrave R      2:
                        1st lady             Lesley Whiley,   RRR                 2:32:58
1st team            Highgate Harriers
FF40:               1st man             Jez Bragg,                    TRA                 5:
1st lady             Susan Sleath,                Hardley R         5:55:13
1st team            Trail Runners Association
Thursday night schedule for April
Thurs    6th                    Sue to lead                  
Thurs    13th                  Handicap Race
Thurs    20th                  Martin to lead
Thurs    27th                        Dick to lead
Thursday night schedule for May
Thurs    4th                    Sus to lead                  
Thurs    11th                  Lucy to lead                
Thurs    18th                  Pete to lead
Thurs    25th                  IAH Relay? – provisional date
Correspondence received by Secretary
Correspondence received

Sender

Subject matter

Action

Blood Pressure Association

BPA charity places in 2006 British 10K Race (London)

Notice board

Chinnor Christian Aid

Icknield Way half marathon & 10K (13-05-06)

Events Diary & notice board

Diabetes UK

Fundraising running events (poster)

Notice board

England Athletics

Information on membership of England Athletics

I'll write to England Athletics including the points mentioned by ABAC

Association of GB Athletic Clubs (ABAC)

Suggest writing to England Athletics asking for clarification of membership situation

Race organiser

St. Albans half marathon (11-06-06)

Events Diary & notice board

SEAA

Info. Update #98; Horwich 5K; Track & Field champs entries; T&F diary

File
The Dursley Dozen, 12M multi-terrain, 19th February
Susanne
Lucy and Martin came to my place and off we went.  I had asked Svend (yes, our car has a name) to direct me to Dursley but he soon realized that he had sharp competition in Martin and Lucy's road knowledge so Lucy kindly put him to sleep before he got too upset.
We arrived fairly early and parked near the sport centre.  We had time to meet the other runners at the hall. Martin and Lucy where very interested in the coloured tags you where supposed to pin on you shirt indicating to what age group you belonged.  Instead, I thought the different cakes on display looked more interesting – so to make sure I stood a chance to have one also after the race I confirmed with the sales lady that she had plenty to sell.
I do not know why but my warming up was not very good so when we started off going up a very steep road to Stinchcombe I was sure I would hit a wall at some point during the race.  But I already felt better when we reached the golf course.
At app. 4 miles up the road I thought it was time to have my smoothie - a mix of banana and apple but it was rather thick so I had some problem getting it out of the bottle!
At the Breakheart Quarry, a familiar sound called my name and there was Mo smiling.  Thanks Mo, it is always nice to have somebody looking out for you.
Reaching the famous ropes nobody had warned me about getting on the wrong side of the ropes or starting to climb up while you have the ropes between your legs - especially if you have somebody behind you!
I knew the end was near and a warm welcome met me at the finish.
Reluctantly, we stayed for the prize giving only to realize that both Sue and Martin made us proud to be Compton Harriers.  Unfortunately we learned that Lucy was a man (Martin you have been warned!) so no lady team prize… until next year that is when we will show them that Lucy is indeed a lady!
We all eventually ended up at the pub for a nice hot potato.  All in all a good day out at a tough race.  Oh, and by the way I did get my cake at the end with a big cherry at the top - and it was even a treat from Martin.
Sus
The Banbury 15 mile road run, 12th March
Susanne
Well prepared the night before the race with the running gear ready to wear, I woke up early Sunday only to learn that Lance had decided to shorten my running shoe laces, yes I do know that I have one or two more pairs to wear but when you have set your mind on this pair of shoes to run in on this specific race, then there is no way around apart from borrowing a shoe lace from another shoe.
At 8.45 I set off.  The sport centre was very easy to find and there were ample parking spaces.  At the centre you were welcome to use the shower facilities and the locker but I opted for the nice lady who tagged your bag with your race number and who kindly looked after it while you were running.
At 10.30 the start went from the sports field.  The first mile or two took us out of Banbury to some lovely country lanes, there was quite a wind with even some snow flakes!
We were informed about 4 sizeable hills, but come on, give me a proper hill these where just like flat bumps!
After ½ hours run I finished my ½ full Luzocade pouch (I am doing some testing with Luzocade before the London Marathon) and I still felt strong.
Every time we had a head wind I tucked in behind a big male runner who seemed to do the same speed as me.  In my mind I called him my guardian angel because he was always there when I needed him and he was easy recognised with his scarf.
We reached the first drink station at app. 7 miles so now it was time to put some Lucozade gel to the test, so in it went with a few mouthful of water, it was very easy to handle and I did not feel sticky in my mouth afterwards, excellent I thought and gave it, in my mind, a few 10 min. to start taking effect.  The second drink station was at about 11 miles again it was time for a gel.
After reaching Cropredy Village it was time to head home again to Banbury where the last 2 miles was the same as when we started.  At the finish I quickly thanked the people whom I had been following for the last hour or so and went back to the sports centre to get warm again.
In the hall they had a massage service 20 min. for £5!  Excellent I thought while I was lying there having my legs done, I could get used to this!
The prize giving was only a little late and when I saw that some of the ladies I had overtaken was given a prize my hope was up, and they where indeed fulfilled.  6th lady overall and a prize of £10 pounds so you could say that I have gone a bit pro but if you then subtract then entry fee of £3.50 and the massage of £5 and then the cup of tea and sandwich £1.40 and I am sure that Svend want a drink as well then the figure soon goes in red – well I could always sell the medal I received at the finish like Bjorn Borg, though it probably would not fetch that much.
Anyway, home I went singing with Tom Jones blasting out of the loudspeakers.  In total a very good race for my liking, so Banbury see you next year!
First home men, Tor Duffin, Headington Road Runners  1:29:10
First home lady, Sue Bruce, Tewkesbury                                  1:40:22
Me                                                                                           1:51:52
The Grizzly, 18.5M MT, 12th March
Sue
The regular 'Grizzlers' set off on their annual pilgrimage to Seaton on the Saturday afternoon, and met up at the race exhibition hall.  Martin and Lucy, Mo and I distributed Compton Challenge entry forms around the hall, and Lucy bought a very expensive running hat.  Tom arrived with his nephew (Tom Jnr, who was also running the Grizzly) and Tom Jnr's partner Mel.  Tom Snr was concerned about his own fitness level this year, and had decided to be Harriers' photographer instead of running.  Mo was also concerned about his fitness level, having had a groin injury followed bay a back injury.  However, despite his fears, he was determined to take part.  We made our way to our 'new' B&B in Sidmouth, and the landlord recommended a variety of hostelries just 10 minutes walk away in the town centre.  We found 'The Ship' which could accommodate us all in a nice upstairs dining area, and had the right sort of pre-race food at the right sort of prices.  Later in the evening, we were joined by Pete and wife Jan, who'd delayed their trip to Sidmouth so they could support Reading FC at the Madejski Stadium.  Fortunately, Reading had won, so Pete had almost forgotten about all the problems with his car.  On our walk back to the B&B, we passed a church with a sign outside which read 'And so God said: Do not fear tomorrow'.  And so all Mo's fears were put aside and he could sleep in peace and look forward to the Grizzly the next morning……
After a good breakfast, we traveled in convoy to the main car park in Seaton, which was already more than full, but we managed to squeeze into some unmarked spaces.  I had wondered how we'd spot Dick and Jan, who were traveling down to Seaton that morning, but their new vehicle 'The Loyal Snail' stood out very clearly in the car park.  Dick had only decided to participate a few days previously, when he had managed a good 20-mile training run, and he heard that he could have Phil's running number because she was injured and unable to run.  Phil had contacted the Grizzly organisers to say that Richard Kearn would be running in her place.  Dick contacted them again to change 'Richard' to 'Dick', so that all those who hadn't seen him running since his back operation would realise that the Dick Kearn of old was still alive!
The weather was foul - a bitter driving wind with cold rain showers, which stung any exposed parts of the body.  We made our way to the start, though Martin and Lucy hid in the toilets for as long as possible.  Tom Snr decided he'd made a very wise decision not to run, Tom Jnr's teeth were chattering, I felt so cold that I felt ill, and Pete (not usually one to wear too many running clothes, even on a cold day) had to resort to putting on some extra layers.  At 10:30, the hooter sounded and we set off along the beach.  The route included all the usual features – cliff-top paths, stony beaches, farm tracks, streams, bogs, muddy hillsides……  The recent rain meant it was very muddy and very slippery in places.  Fortunately, the rain stopped in the early stages of the race, but it was still cold and windy.  At Branscombe Mouth, about 6 miles into the race, I caught Tom Jnr and we ran more or less together for the next few miles.  Not long after passing the 8-mile marker, we reached a 10-mile marker, so the conversation amongst our little group turned to whether this was a mistake, whether we'd gone wrong, or whether the route had been shortened.  I think we were all relieved to see the next marker was 11 miles (we learned later this slight route change was to avoid a section of beach, potentially dangerous in rough weather, so the full distance was 18.5M instead of 20M).  I continued to run quite well (though not as well as Tom Jnr, who took off after the 11 miles) until about 3 miles from the end, where I realised my longest training run of 12 miles was not really sufficient!  At this point, we passed a little brewery and there was a 'beer station' – apparently Pete and Mo made use of this!  The end couldn't come soon enough for me, and I completed the final beach section almost by running on the spot.
Martin had already finished (an excellent 31st position in 2:29, though he hated this year's race even more than usual), as had Tom Jnr (2:47, and well pleased, since this was his longest ever race).  I finished in 2:55, while Dick and Lucy both ran very well to finish in 3:09 and 3:10 respectively.  Pete soon followed (3:30).  Having sat in the car for about 30 minutes, with the heat on full blast, I changed then wandered back along the prom to look out for Mo finishing along the beach.  He had predicted a finishing time of 5 hours, so was very pleased to finish in 4:42, without too many aches and pains.  God was right – there had been nothing to fear!
We all gathered in the 'Hook & Parrot' to recover with some hot food, and before long were discussing next year's Grizzly.  Tom Jnr wants to run again next year and wants Tom Snr to run too; Lucy will undoubtedly want to run, so Martin will have no choice; Dick will have to come back to prove that he really is alive and people weren't just hallucinating this year; Pete's only done two Grizzlys and must complete a hat-trick before 'retiring'; and for Mo and Sue it's just one of those things that has to be done each year.  Roll on Grizzly 2007.
Silverstone ½

Marathon

, 19th March
Susanne
Elo, who had decided to run it as well and I started from home fairly early because we knew we might have problems with roadwork but it all turned out to be ok so we had time for coffee before we deposited our kit bag and headed for the start area.
Runners World had five pace groups and I optimistically joined group 7 min. per mile.
Sir Steve Redgrave dropped the famous chequered flag to the start and off we went.  He then joined the field with his wife both in training for the Flora London marathon.
I felt ok, and had planned beforehand my first lucozade gel at the first drink station at 3 miles.  But the drink station came earlier than the 3 miles so when we reach it I did not see it till we had passed.  Knowing that made me desperate to get a lucozade drink at the next station at 5 miles.  Whether it was me, or the guy handing out the lucozade, who was a bit clumsy I do not know but I lost a few seconds getting a pouch meaning my pace group now was ahead of me by app. 20 yards.  I thought if I can just see the lollipop I would still have contact but the gap soon got bigger and bigger and I was left on my own.  With a sharp northeasterly wind it got very tough.  I kept trying to find shelter behind other runners but then I felt the speed was not right.
Finally I could see the end to my ordeal and not caring about the photos taken app. 100 yards before the finish with saliva running out of mouth I ran with what was left in me and crossed the finish line feeling a bit sick for a few seconds.
I had my chip removed and quickly went to retrieve my kit bag from the numbered garages to get some warm clothes on.  Elo had planned to finish in 2:55 so I had time for a warm soup and some hot chocolate before going out to meet him.  I just managed to reach the large grandstand adjacent to the finish line when I saw him crossing the line in 2:43!  After a quick bite to eat, we drove home only to learn that the A34 was very slow but that only gave us time to reflect on the day's event.  All in all a good day out; Elo still maintains that he gets better value for money.
Would I do it next year?  Only because it has pace groups and enough toilets also for the ladies.  But it is a cold boring route and the atmosphere is non existent, but I do presume you can't have it all though you do get a couple of free blisters to take home!
First man David Mitchinson                                                                   1:07:08
First lady Jude Craft                                                                             1:20:36
Sir Steve Redgrave                                                                               3:23:58
Elo                                                                                                       2:42:36
Me                                                                                                       1:34:59
Over 5100 finished the race.
Sus
Handicap Race
Sue
March's handicap race was the final one of the six-race winter series, and took place on a reasonable evening, with some light remaining.  Prior to this race, Lucy and Martin were both well ahead of the rest of us, and only separated from each other by one point.  Lucy was not at all fazed by the pressure, and led the field for most of the race, until a good finish by Dick knocked her back into second place.  Sue and Sus followed in close succession while Martin was feeling the pressure and couldn't catch the three ladies on this occasion.  In sixth place, Mo was pleased to knock almost a minute off February's time, as his back injury continued to improve.  Well done to Dick, and many thanks to Jan for timing all through the winter.
| | | | | | |
| --- | --- | --- | --- | --- | --- |
| Pos | Name | Start time | Finish time | Actual time | Handicap Beaten? |
| 1 | Dick | 5:45 | 18:49 | 13:04 | -0:11 |
| 2 | Lucy | 5:32 | 18:57 | 13:25 | -0:03 |
| 3 | Sue | 7:05 | 19:06 | 12:01 | +0:06 |
| 4 | Sus | 6:09 | 19:12 | 13:03 | +0:12 |
| 5 | Martin | 7:58 | 19:27 | 11:29 | +0:27 |
| 6 | Mo | 0:33 | 20:01 | 19:28 | +1:01 |
Lucy's win on this occasion meant that she maintained her lead over Martin to be crowned Compton Harriers Winter Handicap Champion, once again.  Martin was a close runner up, and was rewarded with a box of Jaffa Cakes.  Well done to both Martin and Lucy for their consistent good efforts throughout the season, and their 100% attendance!  Thanks and well done also to everyone else who supported the handicap series.
Martin suggested that, for future handicap series, we have a series that runs throughout the year (probably six winter races and three summer races), with the champion being announced at the Christmas Dinner.  This seemed to be a popular idea, and will be initiated in January 2007.  In the meantime, we'll have a few handicap races over the summer, but at reduced frequency.  I have scheduled one for 13th April, as I thought those who have been recently been running close to their PBs in less than perfect winter conditions might like the opportunity to have a go on a (hopefully) nice, mild, light evening.
Winter Handicap Race Series 2005 / 2006
Name

Race points

Final Position in Series

Race 1

10-05

Race 2

11-05

Race 3

12-05

Race 4

01-06

Race 5

02-06

Race 6

03-06

Five Best Performances

Points Total

Lucy

5

7

4

5

6

6

7, 6, 6, 5, 5

29

1

Martin

7

4

6

4

7

3

7, 7, 6, 4, 4

28

2

Sue

4

5

3

2

5

5

5, 5, 5, 4, 3

22

3

Susanne

1

6

2

-

4

4

6, 4, 4, 2, 1

17

4=

Dick

6

-

-

1

3

7

7, 6, 3, 1

17

4=

Pete

3

-

5

1

-

-

5, 3, 1

9

6

Kirsty

2

-

-

6

-

-

6, 2

8

7=

Kevin

1

-

7

-

-

-

7, 1

8

7=

Jane

-

-

-

7

-

-

7

7

9

Vicky

-

-

-

3

-

-

3

3

10=

Mo

-

-

-

-

1

2

2, 1

3

10=

Tom

-

-

-

-

2

-

2

2

12
Mo
Well, now it's back to business following yet another successful Challenge … the results are on line and the complimentary emails flooding in … well we've had one or two anyway.  Smiler's gender was in question but has now been reinstated, so now its full speed ahead to the Compton Canter (I will start the count-down timer on the next website update).  When I have processed them, I will also upload the winners' photographs.
12 and 6 kilometre Oxfordshire off-road event:  I received the following details via email recently on this event which I thought might be of interest to all: -
On Sunday 30th April 2006, the second Charlbury Charity Challenge event offers you the chance to participate in a 12 or 6 kilometre off-road run through wonderful Oxfordshire countryside.
The event kicks off at 10.30 a.m. from Nine Acres Field off Enstone Road in Charlbury, 15 miles northwest of Oxford. The routes are mainly off-road on footpaths, public bridleways and green lanes with a short marshalled road section at the beginning and end. All circuits finish at The Playing Close, 50 yards from the Memorial Hall where refreshments are available after the run.  Located between the Playing Close and Nine Acres Field, the Spendlove Centre offers convenient car parking.  Charlbury is also on the railway line from London Paddington to Worcester/Hereford.
This is a "turn-up and go" event without the need to register in advance.  Just get there in time to sign in and pay before the 10.30 start.  Price: £5 for adults and £2.50 for the under-sixteen.  However, if your club wants to participate in greater numbers, we would be pleased if you could get in touch beforehand.
CHA-CHA-CHA is a multi-event.  If your partner, offspring or friend(s) fancy coming but not running, there is also the option of a 6 or 12 kilometre walk or "fun bike" plus 25 and 50 kilometre off-road bike rides.  With 4 pubs, three of them serving food, you could even round off the event with Sunday lunch in Charlbury.  See web link below for local info.
Further formation is available from Phil Morgan (Run routes), tel.: 01608 811367 or Robin Akers (Bike Routes) tel.: 01608 810012 or Dean Vincent (Pharmacy).
CHA-CHA-CHA is a sponsored event in aid of the Nine Acres' Sports Pavilion and Charlbury Community Centre Appeal. Route map, sponsorship forms and local information available via http://www.charlbury.info.soon.
If you feel like joining a runners forum to share comments and discuss training etc with fellow runners, then I suggest a visit to a new site at http://www.runnersforum.co.uk/ . 
 Events Diary: A selection of local and other well known events for your information.  If you need any entry forms, I can email most of them on request and others are likely to be on the club notice board.
<![if !supportLists]> · <![endif]>Sunday 2nd April 2006 – 24th WHITE HORSE HALF-MARATHON - 10:00am, Millbrook School, School
     Lane, Grove, Oxon OX12 7LB  http://www.whitehorseharriers.org
<![if !supportLists]> · <![endif]>Sunday 9th April 2006 – READING HALF MARATHON & GREEN PARK CHALLENGE 4K – 10:05 am
 Green Park (Behind Madejski Stadium) and 10:15 am for the 4k Challenge. http://racepayment.mirrorservers.co.uk/readinghalfmarathon
<![if !supportLists]> · <![endif]>Sunday 9th April 2006 – BENSON 10K – 10:30 am, Parish Hall, Benson, Oxon. 
 (Closing Date 26th March 2006). Entry forms available from me if you are interested – no event website.
<![if !supportLists]> · <![endif]>Sunday 9th April 2006 – PEWSEY VALE 10K – 11:00 am,  Pewsey School, Wilcot Road, Pewsey,
SN9 5EW http://www.pewseyvalerunningclub.com/ 
<![if !supportLists]> · <![endif]>Friday 14th April 2006 – MAIDENHEAD EASTER 10 (miles) – 09:30 am, Woodley Hall, Littlewick Green
<![if !supportLists]> · <![endif]>Easter Saturday 15th April 2006 – ASTHMA UK 10K – 10:OO am, Dorney Lake, Windsor
<![if !supportLists]> · <![endif]>Sunday 23rd April 2006 – THE LONDON MARATHON – 09:45 am, Blackheath, London
  http://www.london-marathon.co.uk/
<![if !supportLists]> · <![endif]>Sunday 30th April 2006 - CHARLBURY CHARITY CHALLENGE  12k & 6k - 10.30 a.m. from Nine
Acres Field off Enstone Road in Charlbury, 15 miles northwest of Oxford. http://www.charlbury.info
<![if !supportLists]> · <![endif]>Sunday 30th April 2006 – THE HIGHWORTH 5 MILE – 11:00 AM, Warneford School, Shrivenham Road,
  Highworth.  Entry forms on club notice board.
<![if !supportLists]> · <![endif]>Monday 1st May 2006 – MAY DAY FUN RUN 5.2 Miles – 11:00 am, Regatta meadows, Henley-on-
Thames.  Entry forms from me or Sue.
<![if !supportLists]> · <![endif]>Tuesday 2nd May 2006 – SILVERSTONE GRAND PRIX 10K – 07:30 pm, Motor Racing Circuit,
Silverstone  http://www.silsonjoggers.org.uk
<![if !supportLists]> · <![endif]>Sunday 7th May 2006 – LEEDS HALF MARATHON – 10:00 am, Leeds City Centre,
   http://www.leeds.gov.uk/runleeds
<![if !supportLists]> · <![endif]>Sunday 7th May 2006 – MARLOW 5 MILE RUN – 09:30 am, Hugginson Park Marlow, Bucks. 
     Entry forms on notice board or from me.
<![if !supportLists]> · <![endif]>Saturday 13th May 2006 – ICKNIELD WAY HALF MARATHON & 10K – Entry forms on Club
 Notice board. (Start time not stated on entry form – closing date for entries 6th May 2006).
<![if !supportLists]> · <![endif]>Monday 29th May 2006 – OLLIE JOHNSON MEMORIAL KINTBURY 5 MILE RUN – 10:00 am
Kintbury Recreation Ground.  Entry forms on club notice board.
<![if !supportLists]> · <![endif]>Sunday 11th June 2006 – CHILTERN CHASE 10K – 10:00 am, Ewelme Village, between Oxford &
Henley http://www.chilternchase.org.uk (Multi-terrain)
<![if !supportLists]> · <![endif]>Sunday 11th June 2006 – SOUTH DOWNS MARATHON & RELAY – 10:00 am, White Ways Country
Park, nr Arundel Castle to finish at Queen Elizabeth Country Park. http://www.209events.com
<![if !supportLists]> · <![endif]>Sunday 11th June 2006 – ST ALBANS HALF MARATHON – 10:00 am (½ Mthn); 08:00 am (Walkers),
     Verulamium Park, St Albans.  http://www.stalbanshalfmarathon.co.uk
<![if !supportLists]> · <![endif]>Sunday 9th July 2006 – WYCOMBE HALF MARATHON – 09:30 am, High Wycombe, Bucks.
<![if !supportLists]> · <![endif]>Sunday 23rd July 2006 – THAMES RUN 13K – 11:30 am, Wallingford, On the Thames between Oxford &
 Henley.  http://www.thamesrun.co.uk (Multi-terrain)
<![if !supportLists]> · <![endif]>Sunday 1st October 2006 – GREAT CLARENDON FULL/HALF  & RELAY MARATHON –
10:30 am Winchester College (full & relay), 12:00 noon Broughton Village Hall (half).
     http://www.clarendon-marathon.co.uk
 (Mo – April 2006)