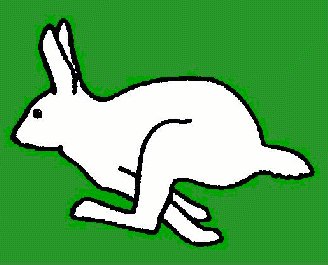 THE HARRIERS HERALD
No. 150, August 2005
Editorial
Welcome to August's Harriers Herald, a slim-line issue this month.

 

The Harriers didn't race much during July, and I'm not aware of any team outings in August.

 

However, Lucy is taking on a major challenge over the weekend of 27/28 August – she will be

Compton Harriers
' first and only competitor in the 86.5-mile Ridgeway Challenge – good luck Lucy!
We begin with Thursday night schedules and Secretary's correspondence.

 

Then, it's straight into Mo's Website report which features some adventure and extreme races, tips for training in hot weather, where to recycle your old running shoes, and latest updates to the Harriers website.

 

Mo's Fixtures article covers a wide range of races from August to October, including six 10K races, the Abingdon Marathon, and the Boneshaker duathlon.

 

Finally, there are results and a short report on the IAH Boundary Race.
Thursday night schedule for August
Thurs    4th                    Philomena to lead
Thurs    11th                  Handicap Race
Thurs    18th                  Lucy to lead
Thurs    25th                  Tom to lead
Thursday night schedule for September
Thurs    1st                    Pete to lead
Thurs    8th                    Mo to lead
Thurs    15th                  Sue to lead
Thurs    22nd                  Marie to lead
Thurs    29th                  Martin to lead
Correspondence received by Secretary
Abbreviations:  BCAA = Berkshire County Athletic Association; SEAA = South of England Athletic Association; AAA = Amateur Athletic Association of England; UKA = UK Athletics
Correspondence received

Sender

Subject matter

Action

SEAA

Info. Update #90; Yarmouth 10K info.

File

M Thomas (Stragglers / Staines Striders)

River Relay (Staines – London; 6 x ~5 miles), 11th September

File

I.D. Express Ltd.

Corporate Insignia catalogue (badges, ties etc.)

File

Winning Ways

Latest Catalogue for sports clubs & event organisers

File

AAA

Update on modernisation of athletics in the UK & forthcoming EGM

File
Mo

I have one or two links for your viewing this month, the first being http://www.tflinks.com which is about the world of Running and Track & Field.  I received an email message from one of the organisers of the site requesting a link to their site as they have added a link to our site.  There are various articles and links covering a range of subjects on training, injury recovery and general running information.  It's a US-based site so most of the links are American, but the link directory covers running clubs world-wide and lists us as one of 583 UK clubs and one of fifteen in Berkshire. 

Anyone interested in adventure racing?  If so then perhaps a visit to the Questars website would be in order.  It all looks a bit confusing, but basically teams can enter the event which consists of trail running, mountain biking and kayaking … and it doesn't seem to matter how many make up a team and how many participate in each discipline!  The link is http://www.questars.co.uk … the next event is on 13th August based around Pewsey.

An email from the MD (Dennis) at Up & Running was sent to remind us to visit his stores (the nearest is Oxford) where it is now possible to recycle your old running shoes in order to help the environment.  Of course it is quicker to visit online at http://www.upandrunning.co.uk … but you won't be able to recycle your old shoes there!  Dennis also gave the following tips for summer running : -

Cool Running - some Summer Tips

You need to take extra steps to keep cool and comfortable in the summer heat.

A good running cap will keep the direct sun off our head, and a good peak will protect your eyes and face - we have a great range including the new inov-8 caps.

Hydrate or die.  Well, maybe not on a 5-mile run.  But your performance and wellbeing will be affected if you get dehydrated.  "Drink before you're thirsty", because then it's too late.  We have a great range of bottles and bottle carriers to take on the run, and isotonic drinks to put in them.

Look cool, feel cool, be cool.  The old cotton t-shirt is so uncool - it will get heavy with sweat, rub your nipples off, and you'll look like a sack of spuds.  The new running tops have breathable and moisture-dispersing fabrics, and clever cuts to keep you feeling and looking cool.

Finally, if you feel like doing anything extreme then I think you should have a look at http://www.extrememarathons.com as the Kalahari Desert event is rapidly approaching (13th October 2005) …

7 days, 250K … need I say more!  (I may give it a miss for now).

For a little bit of extra interest, I will add a box on the home page for asking questions on any subject you like … try entering your name or that of other Harriers for a bit of fun … it'll keep you entertained for hours.

Ah! by the way, I am just about to put a few more Ridgeway Relay photos on the website, taken on my own trusty digital camera.

Fixtures: A selection of local and other well known events for your information.  If you need any entry forms, I can email most of them on request.

<![if !supportLists]> · <![endif]>Wednesday 3rd August 2005 – PEWSEY MID WEEK 5 – 7:30 pm  Pewsey Sports Centre http://pewseyvalerunningclub.co.uk

<![if !supportLists]> · <![endif]>Sunday 14th August 2005 – PINEWOOD 10K – 11:00 am Pinewood school, Bourton, Swindon. http://www.grassrootsevents.co.uk

<![if !supportLists]> · <![endif]>Sunday 14th August 2005 – BEARBROOK JOGGERS 10K – Aylesbury Rugby Club, Weston Turville, http://www.bearbrookjoggers.co.uk

<![if !supportLists]> · <![endif]>Saturday 27th & Sunday 28th August 2005 – The Second RIDGEWAY 86.5 MILE CHALLENGE – 10:00 am Ivinghoe Beacon.  Registration in nearby Ashridge car park from 08:30am

<![if !supportLists]> · <![endif]>Sunday 28th August 2005 – VALE OF PEWSEY HALF MARATHON – 10:30 am Pewsey Sports Centre http://pewseyvalerunningclub.co.uk

<![if !supportLists]> · <![endif]>Sunday 4th September 2005 – KERRIDGE 10K – 10:30 am Highclere castle http://www.newburyac.org.uk

<![if !supportLists]> · <![endif]>Sunday 4th September 2005 - HEADINGTON 10K - 10:30am, Worminghall, Oxford, HP18 9JX http://www.hrr.org.uk

<![if !supportLists]> · <![endif]>Sunday 11th September 2005 - ALDBOURNE 10K - 11:00am, Aldbourne Football Club, Farm Lane, Aldbourne, SN8 2DS http://www.aldbourne10k.co.uk

<![if !supportLists]> · <![endif]>Saturday 17th September 2005 – HIGH PEAK CHALLENGE 40 – 08:00am Buxton, Derbyshire. 

<![if !supportLists]> · <![endif]>Saturday 17th & Sunday 18th September 2005 – ISLE OF WIGHT FELL RUNNING SERIES – 11.00 am Winter Gardens, Ventnor, Isle of Wight http://www.rydeharriers.co.uk

<![if !supportLists]> · <![endif]>Sunday 18th September 2005 - CHARLBURY STREET FAIR 10K - 10:30am, The Playing Close, Charlbury, Oxford http://www.runnersworld.co.uk/events/viewevent.asp?sp=&v=2&EN=27123

<![if !supportLists]> · <![endif]>Sunday 18th September 2005 – THE BONESHAKER  X-Country 5k Run, 20k Bike, 5k Run - 10:30am, Ardington Sports Club http://www.bone-shaker.co.uk

<![if !supportLists]> · <![endif]>Sunday 16th October 2005 –AKZO NOBEL ABINGDON MARATHON – 9:00am Tilsley Park, Abingdon. Closing Date 30th September 2005. http://www.abingdonamblers.co.uk


 (Mo – August 2005)

Boundary Run and Walk, 30th June

Sue

Despite the less than ideal weather forecast, 15 competitors participated in the Run and 24 in the Walk.  Unfortunately, the walkers were heavily rained upon even before reaching East Ilsley.  However the rain 'cleared the air' nicely and, after the downpour, the weather improved considerably.  The wet ground ensured that no records were broken, but there were some good performances.  In the running event, the leading ladies were me and Lucy, and it was very inspiring to see Kirsty do so well in her first race since the birth of Lola just 12 months earlier.  Dick led the men home, ahead of Terry Field and Pete, with Tom not far behind.  It was nice to see ex-Harrier Phil Green take the trophy for the walking event.  It was also good to see Dave Revitt, a founder and long-time member of Compton Harriers who now lives in Sussex, spectating at various points on the route.  Jan and I tried to persuade Dave to make the presentations, but he wasn't too keen and IAH Director Martin Shirley, who had to come spectate, stepped in to do the honours.

Thanks to all the Harriers who helped – Lucy, Martin, Susanne and Mo for course clearing and marking, Dick for stamping out a path through a field of shoulder-high rape, and Jan for time keeping.



Runners

Walkers

Position

Name

Time

Position

Name

Time

1

Sue Francis

59:01

1

Phil Green

1:48:00

2

Dick Kearn

1:04:30

2=

Lisa Rothwell

2:09:07

3

Terry Field

1:08:23

Catherine Whittaker

4

Lucy Gettins

1:08:32

4=

Aparna Jagannathan

2:15:47

5

Peter Humphreys

1:09:17

Sanjay

6

George Ashley

1:10:41

6=

Damer Blake & family

2:17:20

7=

Chris Rowland

1:12:46

Louise Brackenbury

Simon Patchett

8=

Helen Braidley

2:21:37

9

Geoff Oldham

1:14:40

Dawn Chapman

10

Tom Doy

1:16:36

Dominic Archer

11

Kirsty Bayley

1:16:59

11

Matt Cottingham

2:26:35

12

Keith Simpson

1:17:09

12=

Debbi Taylor

2:28:43

13

Fiona Wycherley

1:18:29

Alison Bowen

14

Ross Sadler

1:27:06

14=

Lowri Taylor

2:33:34

15

Ebrahim Sowe

1:37:38

Jenny Bispham

Abigail Layton

17=

Jason Chattoo

2:37:46

Dan Cochlane

19=

Kathryn Wright

2:37:56

Sousan Izadkhasti

Emma Denham

Maria Armesto