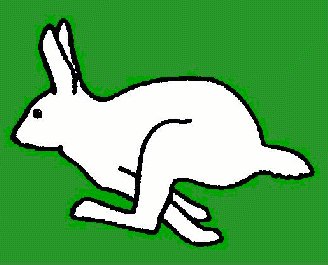 THE HARRIERS HERALD
No. 154, December 2005
Editorial
Welcome to December's Harriers Herald.

 

We begin with Thursday night schedules, then Brief News including details of the club's AGM, Christmas Meal, London Marathon Club Entry, Running with Santa, Grizzly 2006, and the 'Four Points' Quiz.

 

Following Secretary's correspondence, there are some brief notes from the recent BCAA AGM.

 

Then, Susanne gives details and new rules for her 2005 Bike Challenge. There are race reports or results for the Clarendon Way Marathon (Martin), the first

Oxford

Mail cross-country, The Roaches Fell Race (Lucy), the Eynsham 10K, and the second Winter Handicap Race.

 

Mo's Website article includes an update on new features he will be adding to our website, and articles about 'eating and training' and 'speed sessions'.

 
Mo'
s Events diary covers a wide range of races well into 2006, including those usually popular with the Harriers.

 

Thanks to
Lucy
,
Mo
, Susanne and Martin for all their contributions this month.
Thursday night schedule for December
Thurs    1st                    Martin to lead
Thurs    8th                    Handicap Race followed by Compton Harriers AGM
Thurs    15th                  Sue to lead                  
Thurs    22nd                  Mo to lead
Thurs    29th                  No leader scheduled
Thursday night schedule for January
Thurs    5th                    Dick to lead
Thurs    12th                  Tom to lead                 
Thurs    19th                  Handicap Race
Thurs    26th                  Phil to lead      
Thanks to Pete for organising the Christmas Meal, which will be at (arrive from ) on the evening of Saturday 17th December at 'The Castle' at Cold Ash.  There are now seventeen of us attending.
I have now received the club's guaranteed entry to the London Marathon.  Traditionally, the names of all those Harriers who entered the Marathon, but were not accepted, are put into a hat at the Christmas Meal to select the recipient of the club entry.  Let me know if your name should be in the hat!
Running with Santa - Compton Christmas Charity Collection
As we did such a good job last year, we have again been asked if any of our club members would be able to help out with the Christmas charity collection accompanying Santa's sleigh around Compton.  Last year, Susanne, Dick, Mo and I helped for a couple of hours running ahead of the sleigh to knock on doors with our charity collection boxes raising £350 for Cancer Research and for Compton Village Hall.  Mo has replied to say that a few of us will help out.  It is on the afternoon before our Christmas Meal (17th December) but, last year, we were finished by about .  It's not everyone's idea of fun, but I think we all quite enjoyed it last year so more details nearer the time for anyone who's keen.
Accommodation for The Grizzly 2006
If you've had your Grizzly entry accepted, and would like to travel down to Devon the day before the race and stay overnight (as most of us usually do), let me know ASAP and I will try to book us all into our usual B&B at Wilmington.
Compton Harriers win local Quiz
Last Thursday we headed to the Four Points for our usual post-run meal, to find that a pub quiz was about to start.  We were encouraged to enter a team and, with some reluctance, accepted the challenge.  Captained by our Chairman, Martin, we felt our performance was reasonable.  As the final scores were read out in reverse order we soon discovered that our team (Andy, Kirsty, Lucy, Martin, Sus, Pete and Sue) had won.  Our £20 winnings have gone into the kitty, and our bottle of wine will put in an appearance at the AGM or Christmas Meal.
Correspondence received by Secretary
Abbreviations:  BCAA = Berkshire County Athletic Association; SEAA = South of England Athletic Association; AAA = Amateur Athletic Association of England; UKA = UK Athletics
Correspondence received

Sender

Subject matter

Action

AAA

Notice of EGM to pass the resolution: The AAA of England agrees that all governance of athletics in England will be transferred to a new body England Athletics Ltd

In line with our previous 'no' vote to proposed changes, and in view of the SEAA opinion, I sent off the 'no' vote again, as it had to be returned this week

SEAA

Encourages all SEAA affiliated clubs to vote 'No'

Association of British Athletic Clubs

Encourages all clubs to vote 'No'

AAA

Encourages all clubs to vote 'Yes'

Peter Masters

Introducing himself as 'Interim Chair of England Athletics SE region'

File

AAA

Entry forms for indoor athletics champs

File

SEAA

Info. Update #94; UKA Club's Insurance information; SEAA cross-country champs

File

AAA

Athletics Development Update #37

File

Bearbrook Joggers

Hardwick cross-country entry forms

Notice board & Mo
Berkshire Country Athletic Association (BCAA) AGM
I represented Compton Harriers at the above AGM on 21st November.

 

Below is a summary of the main points which might be relevant to Compton Harriers:
<![if !supportLists]> · <![endif]>BCAA constitution to be updated
<![if !supportLists]> · <![endif]>BCAA website to be set up
<![if !supportLists]> · <![endif]>BCAA road running championship this year consisted of a 10K, a 10M, a Half Marathon and a Marathon with points being awarded to Berkshire competitors according to their finish positions, and medals being awarded to overall series winners in each age category; something similar to be organised next year
<![if !supportLists]> · <![endif]>23 clubs are affiliated to BCAA
<![if !supportLists]> · <![endif]>BCAA needs new volunteers on the committee – most of the current committee members have been involved for 20+ years
<![if !supportLists]> · <![endif]>BCAA has taken a moderate view on the proposals for 'modernisation of athletics in the UK', supporting the proposals with some reservations especially in respect of the athlete registration fees; the process is still quite vague, but it is known that the 'territories' (SEAA, NEAA etc.) and County structures will be maintained
Susanne
This year's bike challenge takes part on the same route as last year, let me remind:
The Start is in West Ilsley opposite the pub "The Harrow" by the pond.  By the pond you will find a water trough, your rear wheel has to touch the trough as you are setting off heading for Farnborough.  When you reach the single house on your right between Farnborough and West Ilsley, called Lands End, you turn left up Old Street (off-road track).  Continue straight on till you reach Catmore Road where you turn sharply left down hill back to "The Harrow".  You can stop the clock when your front wheel touches the trough.
The rules are: Any man/lady-powered bike is allowed.  Every time you accidentally touch the ground with your feet or a foot and you decide to ride your bike again you are penalized with 5 seconds, unless you decide to finish the route on 2 legs.  The names of the two fastest times will be put in a hat.  However if you make a PB compared with last year's time your name is automatically qualified for a place in the hat, meaning you could have your name appear twice!  You can have as many attempts as you like before the Christmas meal where the lucky winner will be found.
Enjoy!
Last year's finish time:   Dick                 19:47
                                                Sue                  20:23
                                                Martin              20:25
                                                Mo                   20:30
Susanne            21:20
Peter                22:03  
Susanne
Clarendon Way Marathon - Sunday 2nd October
Martin
Having had our entries rejected for the Beachy Head Marathon, Lucy entered me (and herself) for the Clarendon Way Marathon.  This is a linear race from Winchester to Salisbury and all points in between.  The marathon was being staged in conjunction with a four-stage relay race over the marathon course, plus a half marathon that started at the mid-way point.  With this race format the organisers ensured the finish area was a hive of activity.
We drove one car to the event having previously elected to park the car at the finish and take one of the 'team' buses to the start, courtesy of the race organisers.  The spare clothing we discarded before the start was then bussed back the finish, a system that worked very well.
The race started from the pleasant surrounding of Winchester College's sports field where we met Dick, who was representing the TRA and due to take part in the prize giving ceremony.  The weather was perfect and to improve matters further the course took us along a mix of paths, tracks and roads that meandered and 'undulated' their way through some very picturesque Wiltshire countryside.  On route the competitors were well catered for with drinks stations every 3 miles and a feed station at the halfway mark.  However, we could have done with bit more grub along the way.  Lucy had to resort to picking blackberries towards the end and by the finish I was definitely running on empty.  Nevertheless, after a quick rub down and a cup of tea I realised I enjoyed the experience and did this sort of thing for fun, just like other things you do for the first time, hey Sus!
It is fair to say that the elements did treat us to a marvellous October day but even in inclement weather this would be a fine event to participate in.
Results for the men's race:
1st                    Stephen Goulding         2.54.37
11th                  Martin Fray                  3.10.02 - Third male V40 and good for weight
254th                Mr Last Home 6.09.28
Results for the ladies race:
1st                    Sue Sleath                    3.18.37
9th Lady           Lucy Gettins                 3.54.46 - Sixth W40
57th                  Ms Last Home             6.09.28
Oxford Mail League Cross-Country: Round 1, Ascott-under-Wychwood, 6th November
Sue
At 15 miles my first attempt at fell running was a little on the long side for a beginner, but traveling as far as Derbyshire would seem a bit much for a 3-miler.  A brilliant weather forecast also made the trip worthwhile, and on the morning of November 13th conditions were perfect for a rookie with no sense of direction.  We started at the village of Meerbrook and instantly began a climb to the Roaches crags, through a dispiriting series of boggy fields.  On reaching the climbing-rocks both the scenery and the going became much more pleasurable, with amazingly clear views of the peaks, if we had the time to appreciate them.  I was happy to tramp along at the back of the field, giving in to the temptation to overtake a few plodders on the down bits of course!  Through Gradbach forest and down to the river Dane we went, with a cooling dip in the river before more boggy fields and eventually a sight of Shutlingslow; a conical peak quite different from the surrounding hills.
On descending Tagsclough hill I started to meet the first front runners coming back – all of us 'fun' runners clapped and congratulated them but for some reason most of them were speechless!  One of the boys in front was Colin, who as a local had found his own path through a boggy field, causing the entire race to change course!  Soon I met Martin belting down the hill, frightening the locals, and tried to remember I was in a race as the mighty peak of Shutlingslow loomed ahead.  Towards the top the race was a scramble, which oddly enough was quite easy, and I overtook a slower scrambler.  Once at the top it was a slither back down, and retracing of steps back to the Roaches.  Since the field was thinning out I had to ask the odd passer-by the way to go!  Just when I was starting to get fed up with this fell-running lark, there was Martin, fully dressed, waving a cup of tea at me.  Back at the village hall there was all the tea we could drink and 1st Vet prize for Colin, who was also 4th man in 2:06.  Martin was 25th and third lady in 2:33 and I was 151st and 17th lady in 3:20.  There were 195 runners overall but only 22 of us claimed to be female, about half the number I would expect in a race that size.  So I can only conclude that fell running is a man's game!
Handicap Race
Sue
Holidays and illness meant there was a very depleted field for November's Handicap Race.  Even Jan was ill and unable to time-keep, so Mo kindly stepped in.  It was a dry, still and moonlit evening, which would have been perfect for running had it not been so bitterly cold.  No chance of any P.B.s on a freezing night like this….was there?  We started in the order Lucy, Susanne, Sue, then Martin and that's the order we finished in – it was a bit of a lonely run for all of us.  Lucy defied the conditions as she stormed to victory, and amazingly took three seconds off her P.B. in the process.  Susanne took second spot in a very respectable time, which must surely equate to a P.B. in better conditions.  I was satisfied with sub-12 for third place while Martin, who was recovering from a tummy-bug, was pleased to finish with his insides intact.  Lucy's win means that she now heads Martin by one point in the Handicap Series.  Well done Lucy, and thanks to Mo for timing.  The next Handicap Race is scheduled for 8th December.
| | | | | | |
| --- | --- | --- | --- | --- | --- |
| Pos | Name | Start time | Finish time | Actual time | Handicap Beaten? |
| 1 | Lucy | 0:19 | 13:49 | 13:30 | -0:11 |
| 2 | Susanne | 1:10 | 14:01 | 12:51 | +0:01 |
| 3 | Sue | 2:17 | 14:11 | 11:54 | +0:11 |
| 4 | Martin | 2:39 | 15:17 | 12:38 | +1:17 |
Points after two races are as follows:
 Position

Name

Race points

Race 1

Race 2

Race 3

Race 4

Race 5

Race 6

Total

1

Lucy

5

7

-

-

-

-

12

2

Martin

7

4

-

-

-

-

11

3

Sue

4

5

-

-

-

-

9

4

Susanne

1

6

-

-

-

-

7

5

Dick

6

-

-

-

-

-

6

6

Pete

3

-

-

-

-

-

3

7

Kirsty

2

-

-

-

-

-

2

8

Kevin

1

-

-

-

-

-

1
Mo
Details of the 11th Compton Challenge are now on the website for all to see and I will also start the countdown timer to the event when I update for December.  You may also be aware of the new event for 2006, the Compton Canter … details also now on line.  I also plan to provide a little more entertainment by including on-line news and also an on-line dictionary look-up box during the December period, so keep an eye out for the new additions.
My first article of interest which can also be viewed on line at http://www.runnersworld.co.uk/n26a/article-munchies
Is all about getting the balance right between eating and running … it can be a difficult balance for some, so Philomena take note!
EATING AND TRAINING: HOW TO TIME IT RIGHT
Many runners know exactly what they should eat and when they should eat it.  It's the practical application of this theory that messes them up. You are either ravenous when you don't want to be – during training – or not hungry when you should be – immediately after training.  The problem is that when you are planning your run around a busy work schedule, your brain, leg muscles and stomach don't always stay in sync.
An early-morning run, for example, can leave you feeling fatigued during your working day.  A midday training session may become no more than an afterthought if hunger overrides your motivation.  And an after-work jaunt may press your dinnertime perilously close to bedtime.
If you are looking for ways to get back into sync, read on.  The following advice will help you coordinate your meals with your training schedule, based on the time of day you run.
Early Birds
To eat or not to eat?  That is the eternal question of those who like to run as the sun is coming up.
The answer is, if you can, you should fuel up before your morning run.  This performs two functions.  First your muscles receive an energy supply to help you power through the run.  Secondly, your entire body, especially your brain, receives the fuel and nutrients it needs for optimal functioning.  It shouldn't be a surprise that studies support this and that eating before a run boosts endurance compared with fasting for 12 hours.  People who eat before exercise rate the exercise as better and as less rigorous compared with those who fast.
That said, not everyone can eat before a morning run.  If you're the type of person who sleeps until the minute before you head out of the door, you might not be able to fit in the meal before you run.  Eating too close to your run may spoil it by causing cramps and nausea.  On the other hand, if you're a true early bird, you may have the time to eat breakfast, read the paper and wash up before you head out of the door.  Here are a few refuelling strategies for both types of morning exercisers:
Early risers
Choose high-carbohydrate foods that are low in fat and moderate in protein.  Aim for about 400-800 calories, which will fuel your training without making you feel sluggish.  Drink about half a pint of water two hours before your run to offset sweat loss.
Try these 400- to 800-calorie pre-run breakfasts:
<![if !supportLists]> · <![endif]> Two slices of toast and a piece of fruit
<![if !supportLists]> · <![endif]> A toasted bagel topped with low-fat cheese and tomato slices
Late sleepers
Most runners fall into this category and don't have time to eat and digest a full meal before they head out of the door.  If you fall into this camp, experiment to see what you can stomach before you train. Here are a few suggestions:
<![if !supportLists]> · <![endif]> Half a pint of a carbohydrate drink
<![if !supportLists]> · <![endif]> Half a bagel
If none of these sits well with you just before a run, then fuel up the night before with a large dinner.  As long as you don't plan a long or intense run in the morning, a high-carbohydrate evening meal should power you through your pre-breakfast run.
For both types
Whether you are an early or late riser, your body needs calories from carbohydrate, protein and other nutrients after you have finished running.  A recovery meal will help fuel your morning at work, preventing post-run fatigue.  Eat within an hour of your training and be sure to include both carbohydrate and protein.  Here are some options:
<![if !supportLists]> · <![endif]> A fruit smoothie made with a tablespoon of protein powder
<![if !supportLists]> · <![endif]> Leftovers from dinner – pasta, soup, chilli or even vegetable pizza
The Lunchtime Crowd
People who run during lunch hours sometimes find that hunger gets the better of them.  That's because if you ate breakfast at 6am, you've gone six hours without food.  By noon, your fuel from breakfast is long gone and your blood sugar may start to dip. Rather than increasing the size of your breakfast (which may just leave you feeling sluggish), you should bring a light, pre-run snack to work.
Remember the following three points as you run:
1) Timing Eat one to four hours before your run to allow enough time to food to leave your stomach.
2) Quantity Eat 100-400 calories, depending upon your body size and what you had for breakfast.
3) Content Select foods that are rich in carbohydrate, low in fat and moderately high in nutrients. Try these mid-morning snacks:
<![if !supportLists]> · <![endif]> A breakfast or energy bar with five grams of fat or less
One slice of whole-wheat toast topped with fruit spread

A 75g serving of dried fruit with a can of vegetable juice
<![if !supportLists]> · <![endif]> One packet of instant oatmeal made with skimmed milk
Post-run lunch
The obvious problem with lunch-hour exercise is that you don't have time for lunch. But you need fluid and food to recover and fuel your brain for the rest of the working day. Packing your own lunch becomes a must – unless you have a work cafeteria where you can grab food for desktop dining. Packed lunches don't have to take a lot of time. Try these tips:
<![if !supportLists]> · <![endif]> Opt for convenience and shop for lunch items that save time, such as yoghurts, raisins, nuts and cereal bars
<![if !supportLists]> · <![endif]> Make the most of leftovers. Choose any food from the previous night's dinner that you've already packed in a sealed container ready for transport, reheating and eating
Evening Exercise
After a stressful day at the office, there's nothing like a run to burn off excess tension. The problem is that you sometimes don't feel like heading out of the door if you're hungry or just exhausted. If you do manage to run, sometimes you return home so ravenous that you eat everything in sight as you make your evening meal. Then you might eat dinner as late as 8pm and end up going to bed with a full stomach.
What to do?
It's very simple – just stick to the following two principles:
1. Eat healthily during the day to avoid any intestinal upset that might thwart your training plans.  Also eat often and enough that you're adequately fuelled for your session to avoid the 'I'm too hungry' excuse.
2. Eat lightly after exercise to recover well without causing digestion to interfere with your sleep.
Here are some tips for evening exercisers:
<![if !supportLists]> · <![endif]> Never skip breakfast.  Eat at least 500 calories for your morning meal.  For example, quickly throw together a fruit smoothie made with yoghurt, fruit and juice. Or try cereal topped with nuts, skimmed milk and a piece of fruit.
Make lunch your main meal of the day.

 

Focus on high-quality protein, such as fish, tofu, lean beef, chicken or bread with cooked grain, along with fresh fruit.
Always eat a mid-afternoon snack.

 

Around three hours before your run eat a snack of fruit or an energy bar together with half a pint of water.
<![if !supportLists]> · <![endif]> Drink more fluids.  Grab a drink as soon as you step back through the door after your run.  And keep drinking as you prepare your meal.  This helps replace sweat loss and may prevent you trying to eat everything in sight.
Eat moderately at dinner.  Some people worry about eating too close to bedtime because they fear the calories will go straight to their fat cells.  That's simply not true.  Your body will use those calories to stockpile fuel in your muscles. On the other hand if you eat more calories than your body needs – no matter what time of day or night – your body will eventually store the excess as fat.
If you enjoyed the first article, then my second will leave you ecstatically happy … it's all about speed sessions and tips to improve your speed and can also be viewed online at http://www.runnersworld.co.uk/n25/60-sec-speedwork
YOUR FIRST SPEED SESSIONS
Ease into faster running with these introductory sessions:
<![if !supportLists]>1. <![endif]>Easy fartlek
Fartlek, or speed play, is variable-paced running that emphasises creativity. During a 30-minute run, choose objects to run to – lamp-posts, trees, buildings, other runners, whatever. Make choices that mark off different distances so your pickups vary in length from 15-90 seconds, and modify your pace to match the distance. If you're with a group, take turns choosing, sometimes revealing your choice ahead of time, sometimes not.
2. Stopwatch fartlek
After 10 minutes on a 30-minute run, begin alternating 15 seconds quick, 45 seconds easy, 15 seconds quick, and so on, until you've done five or six faster segments. Some sports watches can be set to beep every minute to indicate when you should change pace; otherwise, you can just glance at your watch periodically to keep track of when it's time to change.
3. Hills
Warm up with a 10-minute run to the base of a hill that has a steady (but not overly steep) slope.  Run up at a constant pace for up to 45 seconds, then jog back down and repeat four more times.  Move at a speed that allows you to finish each 45-second segment without gasping.  The hill will present resistance; your job is to be steady and in control, focusing on form.
4. Strides
On a track, run quickly for about 15 seconds every time you start a straight, then ease off and jog the rest of the straight and the turn before beginning another 15-second stride.  Do this for a mile or so (8-12 sets of strides).  You can also do strides after a run (grass fields are nice), striding for 15 seconds one way, then jogging back and repeating 8-10 times.
5. Races (5Ks and 10Ks)
Entering races now and then will do two things: first, it will help you to learn to run at a constant pace over a longer period of time; secondly, since much training advice is based on a runner's 5K and 10K times, knowing your personal benchmarks at these distances can help you to tailor your speed sessions more effectively.
Well, after reading the last article you will no doubt be raring to go, so how about checking out the events listed below?
Events Diary: A selection of local and other well known events for your information.  If you need any entry forms, I can email most of them on request.
<![if !supportLists]> · <![endif]>Sunday 4th December 2005 – TADLEY XMAS CROSS-COUNTRY 5.3 MILES – 11: 00 am. http://www.hants.org.uk/tadleyrunners/index.html
<![if !supportLists]> · <![endif]>Sunday 4th December  2005 – LUTON MARATHON – 10: 00 am Lea Manor Recreation Ground http://www.lutonmarathon.org.uk
<![if !supportLists]> · <![endif]>Sunday 4th December 2005 – THE GRIM 8 - 10:30am, Long Valley, Aldershot, GU11 2HL http://www.grimchallenge.co.uk
<![if !supportLists]> · <![endif]>Sunday 4th December 2005 – OXFORD MAIL X-COUNTRY LEAGUE – Enslow Quarry
<![if !supportLists]> · <![endif]>Sunday 11th December 2005 - ANDY READING 10K - 11:00am, Bicester Sports Association, Chesterton, Bicester, http://www.alchester-runningclub.co.uk
<![if !supportLists]> · <![endif]>Sunday 11th December 2005 – THE 46th HOGSBACK 8 - 9:30am, A3100 Artlington , Guildford, Surrey, http://www.ggac.co.uk
<![if !supportLists]> · <![endif]>Saturday 17th December 2005 – G3 DECEMBER 2005 10K - 8:45am,Newlands Corner, Guildford, GU4 http://www.allabouttriathlons.co.uk
<![if !supportLists]> · <![endif]>Sunday 18th December 2005 - WENDOVER WOODS HILL RACE (5 MILE) – 10:30 am, Wendover Woods Forestry Commission Car Park off B4009 nr Wendover. http://www.tvoc.org.uk/Members/barrie/Wendover0512
<![if !supportLists]> · <![endif]>Monday 2nd January 2006 - OXFORD MAIL X-COUNTRY LEAGUE – Lambourn
<![if !supportLists]> · <![endif]>Sunday 8th January 2006 – WOODCOTE 10K – 10:30 am Village Green, Woodcote  http://www.lions-gwd.org.uk
<![if !supportLists]> · <![endif]>Sunday 5th February 2006 - OXFORD MAIL X-COUNTRY LEAGUE – Cirencester
<![if !supportLists]> · <![endif]>Sunday 12th February 2006 – WOKINGHAM ½ MARATHON -  10:00am, Cantley Park, Wokingham http://www.wokinghamhalfmarathon.co.uk
<![if !supportLists]> · <![endif]>Sunday 12th February 2006 – DURSLEY DOZEN – 10:30 am, May Lane car park (opposite the Old Spot pub)
 http://www.g4cio.demon.co.uk/ddozen/ddozen.htm
<![if !supportLists]> · <![endif]>Sunday 19th February 2006 – HARDWICK X-COUNTRY RACE (Approx 6miles)- 11:00 am, Manor House Farm, Hardwick, Nr Aylesbury, Bucks. http://www.bearbrookjoggers.co.uk
<![if !supportLists]> · <![endif]>Sunday 26th February 2006 – THE GORING 10K – 11:00 am,
<![if !supportLists]> · <![endif]>Sunday 5th March 2006 - OXFORD MAIL X-COUNTRY LEAGUE – Banbury
<![if !supportLists]> · <![endif]>Sunday 12th March 2006 – THE GRIZZLY 2006 – 10:30 am, Seaton, Devon.
<![if !supportLists]> · <![endif]>Saturday 25th March 2006 – THE 11th COMPTON CHALLENGE – 9:00 am, The Downs School, Compton, Newbury, Berks. http://comptonharriers.cjb.net
<![if !supportLists]> · <![endif]>Sunday 2nd April 200 – 24th WHITE HORSE HALF-MARATHON - 10:00am, Millbrook School, School Lane, Grove, Oxon OX12 7LB  http://www.whitehorseharriers.org
 (Mo – December 2005)