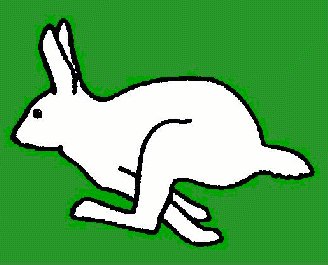 THE HARRIERS HERALD
No. 155, January 2006
Editorial
Happy New Year, and welcome to January's Harriers Herald.

 

We begin with Thursday night schedules, followed by brief information on New Club Vests, the Club Committee for 2006, accommodation details for the Grizzly, and

Compton

's Christmas charity collection.

 

Following Secretary's correspondence, there's a short report on the Christmas Meal.

 

There are race reports for the Eynsham 10K, the Wendover 5 Hill race, two

Oxford

Mail cross-country races, and the third Winter Handicap Race.

 

Mo's Website article includes links for World Cup football, bargain running gear, and instant pop-up shelters, and his Events Diary covers a wide range of races up to April.

 

Thanks to

Sus

,

Mo

and Martin for contributions to this issue.
Thursday night schedule for January
Thurs    5th                    Dick to lead
Thurs    12th                  Tom to lead                 
Thurs    19th                  Susanne to lead           
Thurs    26th                  Handicap Race (please note change of date)    
Thursday night schedule for February
Thurs    2nd                    Lucy to lead
Thurs    9th                    Pete to lead
Thurs    16th                  Handicap Race
Thurs    23rd                  Phil to lead
New club running vests
Thanks to Martin, our club now some new running vests (6 x mens large and 6 x ladies medium), made from wickable fabric, in club colours with 'Compton Harriers' stenciled on the front and back.  If you are interested in buying one, please speak to Martin.  The vests will be sold to members at cost price (£13 each).
Following our recent AGM, the existing committee was re-elected and is: Martin Fray (Chairman), Sue Francis (Secretary), Pete Humphreys (Treasurer), Lucy Gettins (Membership Secretary), Mo Francis (Webmaster and Events Secretary).
Accommodation for The Grizzly 2006
I was unable to contact our usual B&B and, as we are a larger party anyway this year, Mo did some web searches to look for other reasonably priced places in the vicinity of Seaton, which would be able to accommodate us all.  He has now booked accommodation for the following Grizzlers: Phil (single room); Tom (single room); Martin & Lucy (double room); Pete & Jan (double room); Sue & Mo (double room); Tom's nephew & partner (double room) at Cheriton Guest House (Vicarage Road, Sidmouth, EX10 8UQ).  All rooms have TV and en-suite facilities, and the guest house is totally non-smoking.  The costs are £30 per person for bed & breakfast and the deposit required is £20 per room.  Mo has sent off a cheque to cover everybody, so please reimburse him in the near future.
Running with Santa - Compton Christmas Charity Collection
Lucy, Mo and Sue helped out with this year's collection, which raised over £300 for the air ambulance and for the Village Hall fund.
Correspondence received by Secretary
Abbreviations:  BCAA = Berkshire County Athletic Association; SEAA = South of England Athletic Association; AAA = Amateur Athletic Association of England; UKA = UK Athletics
Correspondence received

Sender

Subject matter

Action

SEAA

Info. Update #95

File

AAA

Entries for National X-C champs (London, 25-02-06)

File

Karen Brownlie

Entry forms for Stranraer half Marathon (04-03-06)

N'board & events calendar

Kevin Harris

Entry forms for White Horse half Marathon (02-04-06)

N'board & events calendar

Maidenhead A.C.

Entries for BCAA X-C champs (Maidenhead 15-1-06)

Passed round

BCAA

Minutes of recent AGM

File

AAA

Notice of AGM; outcome of EGM

File

UKA

UK fixtures 2006: calendar & diary

Tickets for athletics Grand Prix

Cardiff National X-C race

N'board

N'board

File

SEAA

Vets X-C champs

File
Sue
Our 2005 Christmas meal and party was held at 'The Castle' in Cold Ash, a pub to which Pete had introduced us, following a summer away day run.  At that time, we had found it friendly, with an excellent choice of food all for a good price, and it certainly lived up to this reputation for our Christmas party.  There were ten current club members, five partners, and ex-member Dennis who happened to be back in the Newbury area for a few days before returning to Spain.  The get-together also gave us an opportunity to say 'goodbye and good luck' to Marie and Richard who will be moving away from the area in 2006. 
Entertainment was provided by a variety of games.  Lucy had devised a clever Sudoku where the squares had to be correctly filled not with numbers but with photos of various Harriers.  Mo and I were first to finish (well, Mo did the hard bit and I stuck on the pictures) with Tom and Maggy not far behind.  Top scorer in Mo's Christmas multi-choice quiz was Pete's wife Jan, while Martin came up with the winning caption for Sue's competition.  Kirsty and Andy's challenge provided plenty of laughs.  They gave us all some play dough, and instructed us to make a model of a fellow Harrier of our own choice.  We then had to identify the Harriers that had been made, with the prize for the most correct answers being won by Sue.  There were some very innovative and life-like models, with Dick and Mo being the most popular members to be modeled, as good use was made of coloured play dough to resemble long hair and bleeding nipples!
Eynsham 10K Road Race, 27th November
Susanne
The start time was 10.30 so I do admit arriving 8.45 was perhaps a bit early, but at least I could choose whatever parking space I wanted.  Dick always recommends checking out the finish before a race but I am sure you do not mean walking the whole route beforehand, which I probably could have done.
I met up with Sue, Lucy and Martin during the warming up.  Mo had decided to be our press-photographer due to his injury.  I was trying to get hold of him in an attempt to get rid of my car key but he was no-where to be seen.  Instead I decided to attach it to one of my socks I always hold on to while I run.  Just to remind you, the socks are not on my feet but in my hands!  This does sound a bit strange and you might think that I am not far away from running with spring onions or other vegetables but, I am sorry, you taught me from the very first day!
10.30 and the start was off.  It is always extremely well marshalled and this year was no exception.  Though I do find the route rather boring at least it is flat.  But it does have a lot of corners so perhaps not the very best for a PB. After app. 10 minutes of run I finally managed to spot Mo among the spectators and in the best Johnny Wilkinson style I threw my key with my sock through the air.  I just had time enough to see that Mo caught it in a way Peter Schmeichel would have envied.  At about 3K I managed to catch up with Lucy who apparently had a sprint start.
The end was near and as I was well informed about the finish I felt confortable to know where to set in my last effort.  I do not know what it is about me but I must look like I am in need of help.  The guy I just had overtaken started to encourage me in my sprint I am right behind you, come on, he shouted and ran with me.  In the meantime I had my eyes on a lady I wanted to overtake, when we reached her he shouted overtake her now – overtake her now, which I did. All this meant that when I reached the finish line I felt a bit dizzy.  But I was most grateful to my "coach" and I also thanked him.  I later met the lady I overtook and we had a talk.  She had heard all the encouraging words I received and was sure that my new "coach" and I knew each other.
The shower did not take long because they were freezing cold.  So we quickly all met up again to wait for the prize giving.  Would there be something for the Compton Harriers to bring home?  Again Sue saved our honour (though I think she was running for Reading) and was presented with a very heavy stone prize – well done Sue.  The day ended with our usual team-chips and thick cut fresh bread at the local.  All in all a very successful race for all of us and we all went happy home.
Times: Martin   36:53
            Sue                  39:01 (third vet lady)
            Susanne            43:19
           

Lucy

                

45:19
The Wendover 5 Hill race – Sunday 18th December
Martin
This event was organised by Gary Walford of the Thames Valley Orienteering Club and was staged within the confines of Wendover Woods in conjunction with an orienteering event.  The entrants of which had a choice of any one of 8 possible routes.  If you want to know a bit more about running around the countryside using only a map and compass, i.e. sans red and white tape, visit the TVOC website (http://www.tvoc.org.uk).
You may remember that Sunday 18th was bitterly cold but there was no wind and the sky was gin clear.  As a consequence, standing in those areas where the sun shone through the trees was quite pleasant and attracted dense huddles of runners.  Sus, Lucy and I represented the Compton Harriers in one such huddle.
The course we ran was well devised comprising 3 hilly loops, along wooded paths.  The route was eminently runnable, apart from the very steep bit halfway around the last loop.  In addition to that little tester, the organisers had also contrived a very taxing uphill finish, which amused a hardy band of spectators.  And I certainly enjoyed watching Sus and Lucy push themselves hard all the way to the tape.
The Wendover 5 Hill race is an excellent event and well worth the traveling time.  You also have the added bonus of seeing numerous orienteers, in their very bright plumage, thrashing about in the undergrowth.  Give me red and white tape!
Martin Potter                - 1st                  - 31:00
Martin Fray                  - 11th                - 34:02
Lisa Newing                 - 21st                - 35:37 (1st lady)
Susanne Enhard            - 68th                - 40:41 (8th lady)
Lucy Gettins                 - 82nd               - 41:50 (10th lady)
Last man home             - 181st              - 64:56
Martin
Oxford Mail League Cross-Country
Sue
The mens race was won by 

S. Kimber

 (Headington) in 34:24.

  

Our A team took an excellent 5th place in Division 2, the first finisher being 39th (Martin, 40:59) followed by 66th (Iain, 42:51), 77th, 110th, 131st (Nick, 48:06), 135th (Dick, 48:25), 161st.

  

Pete just missed being a scorer, finishing 187th in 57:07.
The runaway winner in the ladies event was Cirencester's Wendy Jones (16:52).

  

Sue was first home for Team Kennet in 7th (18:28) just losing 6th spot when she ran along the outside of the finish funnel, instead of running up the funnel!

  

With 15-year-old Nicola Cogdell having an excellent run for 19th (20:26) and Vicky making a welcome return from injury in 42nd (22:48), the team finished 5th.
The mens race saw the home team (White Horse Harriers) take 1st, 2nd and 3rd spot, the winner being Tom Penfold (28:18).  Our team finished second in Division 2 with the following finishing positions: 21st, 40th  (Tom Munt, 33:56), 47th (Martin, 34:18), 86th, 87th  (Iain, 36:32), 98th, 148th (Nick, 42:22).
Handicap Race
Sue
Jan was back in action to time-keep for the last Handicap Race of 2005.  It was cold, but still, and there were enough of us to make a better race of it this time, with more PBs.  Having said that, Kevin was in a race of his own: in only his second attempt at the Handicap Race, he led from start to finish and knocked an amazing 44 seconds off his previous time.  Martin took second place, having started at the back and overtaken all but Kevin, and he once against clocked sub-11.  Pete finished third, setting a PB in the process, and Lucy recorded a PB for the second month running, as she finished 4th.  Sue and Susanne both ran well, and were within 10 seconds of our PBs, but that just wasn't good enough on a night when everyone else was flying, and we had to settle for 5th and 6th.
The points championship continues to be exciting.  Martin has regained the lead from Lucy, but only by one point!  The rest of us will have to work hard to catch them up.  Well done Kevin, and thanks to Jan for timing.  The next Handicap Race has been rescheduled for 26th January.
| | | | | | |
| --- | --- | --- | --- | --- | --- |
| Pos | Name | Start time | Finish time | Actual time | Handicap Beaten? |
| 1 | Kevin | 0:16 | 15:16 | 15:00 | -0:44 |
| 2 | Martin | 4:39 | 15:36 | 10:57 | -0:24 |
| 3 | Pete | 2:41 | 15:44 | 13:03 | -0:16 |
| 4 | Lucy | 2:22 | 15:48 | 13:26 | -0:12 |
| 5 | Sue | 4:15 | 15:59 | 11:44 | -0:01 |
| 6 | Susanne | 3:14 | 16:05 | 12:51 | +0:05 |
Points after three races are as follows:
 Position

Name

Race points

Race 1

Race 2

Race 3

Race 4

Race 5

Race 6

Total

1

Martin

7

4

6

-

-

-

17

2

Lucy

5

7

4

-

-

-

16

3

Sue

4

5

3

-

-

-

12

4

Susanne

1

6

2

-

-

-

9

5=

Pete

3

-

5

-

-

-

8

5=

Kevin

1

-

7

-

-

-

8

7

Dick

6

-

-

-

-

-

6

8

Kirsty

2

-

-

-

-

-

2
Mo
Happy New Year to all … you may have noticed that as yet I haven't added the on-line news and dictionary look-up box as promised for the December period, so I will try to work out what I was going to do and include the additions this month.
I hope you found the article on eating and training of use last month and as a result your performances increase exponentially! (Mine are doing the opposite at the moment).
My first link for this year is for all the football fanatics … OK, I know we don't have many at the club, but as its World Cup year the following link will provide all the news, reviews, all the groups and team information you will need to keep up-to-date and ready for the kick-off on 9th June 2006; www.fifaworldcup.com
Now is the time of year when there are bargains about if you can find them, so I have been looking at some of the websites that sell running gear.  Here are a few worth checking out, with footwear and clothing prices up to 50% off normal prices :- http://www.natterjackrunning.co.uk ; http://www.sportsshoes.com ; http://www.wiggle.co.uk ; http://www.sweatshop.co.uk ; http://www.mandmsports.com ; www.treadbear.co.uk ;
I had a communication from a company called Instant Pop Up Shelters this week so I have included the link to the website as their products are sports-related and some of us may find them of interest. http://www.instantpopupshelters.co.uk
And finally, I'll make sure the Xmas party photos are available for all to see soon.
Events Diary: A selection of local and other well known events for your information.  If you need any entry forms, I can email most of them on request.
<![if !supportLists]> · <![endif]>Sunday 8th January 2006 – WOODCOTE 10K – 10:30 am Village Green, Woodcote
<![if !supportLists]> · <![endif]>Sunday 15th January 2006 – ROUGH 'N' TUMBLE 10 -  11:00am Milton Lilbourne Village Hall, 
   Marlborough, SN9 5LQ Multi-terrain, rural http://www.grassrootsevents.co.uk/
<![if !supportLists]> · <![endif]>Sunday 15th January 2006 - WENDOVER MULTI-TERRAIN 5 - 11:00am, Sunday 15 January 2006
Wendover Woods, nr Halton, Wendover http://www.justracinguk.com/
<![if !supportLists]> · <![endif]>Sunday 5th February 2006 - OXFORD MAIL X-COUNTRY LEAGUE – Cirencester
<![if !supportLists]> · <![endif]>Sunday 12th February 2006 – WOKINGHAM ½ MARATHON -  10:00am, Cantley Park, Wokingham
     http://www.wokinghamhalfmarathon.co.uk
<![if !supportLists]> · <![endif]>Sunday 19th February 2006 – DURSLEY DOZEN – 10:30 am, May Lane car park (opposite the Old Spot
pub) http://www.g4cio.demon.co.uk/ddozen/ddozen.htm
<![if !supportLists]> · <![endif]>Sunday 19th February 2006 – HARDWICK X-COUNTRY RACE (Approx 6miles)- 11:00 am, Manor
House Farm, Hardwick, Nr Aylesbury, Bucks. http://www.bearbrookjoggers.co.uk
<![if !supportLists]> · <![endif]>Sunday 26th February 2006 – THE GORING 10K – 11:00 am, Gardiner Recreation Ground,
     Goring-on-Thames http://www.goring10k.com
<![if !supportLists]> · <![endif]>Sunday 26th February 2006 – THE TERMINATOR 10 – 10:30 am,  Pewsey School, 10 miles MT
 http://www.pewseyvalerunningclub.com
<![if !supportLists]> · <![endif]>Sunday 5th March 2006 - OXFORD MAIL X-COUNTRY LEAGUE – Banbury
<![if !supportLists]> · <![endif]>Sunday 12th March 2006 – THE GRIZZLY 2006 – 10:30 am, Seaton, Devon.
<![if !supportLists]> · <![endif]>Saturday 25th March 2006 – THE 11TH COMPTON CHALLENGE – 9:00 am, The Downs School,
Compton, Newbury, Berks. http://comptonharriers.cjb.net
<![if !supportLists]> · <![endif]>Sunday 2nd April 200 – 24th WHITE HORSE HALF-MARATHON - 10:00am, Millbrook School, School
     Lane, Grove, Oxon OX12 7LB  http://www.whitehorseharriers.org
 (Mo – January 2006)