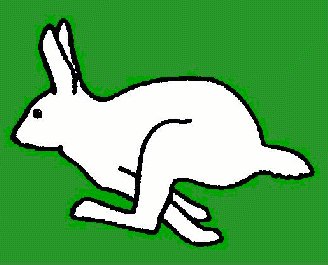 THE HARRIERS HERALD
No. 160, June 2006
Editorial
Welcome to June's Harriers Herald.

 

The coming weeks promise to be busy for the Harriers.

 

On Sunday 18th, ten members will be taking part in the annual Ridgeway Relay, which is always an excellent team day out.

 

The IAH
Boundary Race
is planned for 29th, then 1st July sees the first running of the Compton Canter, a ~6 mile off-road race which Martin and Lucy are organising in conjunction with Compton Village fete.

 

If you are able to help out, Martin and Lucy would be pleased to hear from you
.
In this issue, Thursday night schedules for June and July are followed by Secretary's correspondence and a summary of club membership to the new body England Athletics.  Lucy has recently done very well in two marathon races (The Three Forts Marathon and The White Peak Marathon) which she reports on in this issue.  Kev shares his experiences of The Hairy Legs Challenge and there is a brief report on the Ollie Johnson Memorial (Kintbury) 5M Race.  Pete wrote a report on the Woodley 10K, but then lost it – hopefully he'll find it for next month's issue.  There are also brief results for The Woodley 10K, The Oxford Town & Gown 10K and The Marlborough Downs Challenge.  The IAH-Compton Relay Race was a great success and I have written a short report on the evening.  Mo's Website Update features the football World Cup and Compton's local hero Theo Walcott, and this year's GUCR event.  Mo's Events Diary covers races from June to October, ranging from 6K to full Marathon distance.
Thursday night schedule for June
Thurs    1st                    Tom to lead                 
Thurs    8th                    Kevin to lead
Thurs    15th                  Handicap Race
Thurs    22nd                  Kirsty to lead
Thurs    29th                  Boundary Race
Boundary Race
The likely date for the Boundary Race, where competitors run or walk around the Boundary of the Institute estate and farms (~ 8.5 miles), is Thursday 29th June – more details to follow.
Thursday night schedule for July
Thurs    6th                    Pete to lead                 
Thurs    13th                  Martin to lead              
Thurs    20th                  Mo to lead
Thurs    27th                  Dick to lead
Correspondence received by Secretary
Correspondence received

Sender

Subject matter

Action

Race Manager

Great North Run – guaranteed (but not free!) entry for one male runner (with a sub time) & one female runner (with a sub 1:  time)

Let me know if you've done the time & you'd like the entry

Bearbrook Joggers

Entry forms for 10K , Aylesbury (13-08-06)

Notice board & Events Calendar

Frontrunner

2006 events catalogue (trophies, signs, numbers….)

File

UKA

Nominations for UKA members council

File

Race Secretary

Barns Green Half Marathon, W. Sussex (29-10-06)

Notice board & Events Calendar
Membership of England Athletics
There is much confusion amongst running clubs regarding England Athletics, the new governing body for our sport.  I was not clear about the role of England Athletics, whether we would have to affiliate and if so, how much that affiliation would be.  In March I wrote to Mr. Alan Harrison, Chief Executive of England Athletics, to ask some questions.  His reply was not particularly useful: 'From April 2007 affiliation to other organisations will be your choice…' and 'Cost of affiliation to England Athletics will be similar to your current position…'.  So, I e-mailed our local England Athletics Representative, Elspeth Turner, and her reply was more helpful.  Below is a summary of my questions and Elspeth's answers:
Q: Our club is currently affiliated to the SEAA and to Berkshire County AA.  Will affiliation to England Athletics replace the affiliation to SEAA, or is it an additional affiliation?
A: For the current year (April 2006-April 2007) if a club has affiliated to its county and to the SEAA, then this affiliation automatically transfers to the newly formed England Athletics (the modernised organization which has taken over from AAA of England).  In subsequent years, a club will affiliate to (1) It's appropriate County, and (2) England Athletics (i.e. a club will no longer need to affiliate to SEAA).
Q: We are a small club with 20 members, who each pay an annual club subscription fee of only £3.00, so our annual income is only £60.  What will be the England Athletics affiliation fee after 2007?
A: The affiliation fees for future years will most probably be similar to the current affiliation fees.
Q: England Athletics say that we need to affiliate in order to receive the benefits of membership.  What are these benefits?
A: If a club does not wish to affiliate to England Athletics, then that club will forego many of its benefits, such as insurance, and the right to compete in most competitions.
Q: Will athletes have to be registered as individuals on a membership scheme?  If so, what will be the procedure for this and the cost per athlete?
A: The only change will be the introduction of a membership scheme in 2007, in order to gather information about all individuals participating in the sport.  It will involve a small membership fee paid by all participants, in return for which they will receive additional benefits.  Details of the scheme have yet to be announced.
Lucy
I decided to do this on an impulse, having shadowed Sus and Martin's London training and feeling like a long run myself.  As luck would have it my previous 4 weeks training showed a textbook taper, so rather than a pleasant Sunday jog I decided to go for it!
The start was under-stated, with 150 marathoners starting 15 minutes before the larger half-marathon.  This gave us plenty of room to spread out, and prevented that sensation of needing to keep up with faster runners! The first Fort, Cissbury Ring, was fairly mild, as our route didn't take us to the top, but swung off right, to cross the mighty Adur river and start the 4-mile run along the South Downs Way to Devils Dyke.  This was the high spot of the race, in all respects, with beautiful views all around.  Martin met me at the top with a new supply of SIS gels, then the route ran straight back on itself.  Here I could see that I was 2nd lady, but also that there was another one close behind!  This gave me added motivation to thunder down the hill again, and up and down the next one, and so on back to the river.  The second half of the marathon was just as pretty, as it went North to Chanctonbury ring, a journey that seemed much longer than it looked on the map. Martin met me again when we got to the top, at 20 miles, and who should I meet too but that 3rd Lady!  This time she overtook me for a few seconds, but the downhill muscles soon kicked in and I left her far behind until about 23 miles.  Here the terrain had a long slight uphill gradient.  I heard the sound of dainty footsteps and ladylike breathing behind me and decided it was time to concede defeat!  At 24 miles was the final water-station and a short climb up to Cissbury again.  My pace was a little slower for the next two miles but I was well carbed-up with glucose and gels, so there was nothing to prevent a fast descent for the last 1.1 miles.  As the marathon-designers produced such a lovely course it would be churlish to complain that it was 0.9 of a mile over the 26.2 miles, but that extra always seems to come at the end!  Anyway not wanting to waste those free air miles, and worry that I might lose my 3rd place, kept me going, and I finished at a good pace, 45th overall in .  The first man finished in and the first lady in .
The finish was well catered for with chocolate biscuits, bananas, lucozade and other goodies.  The local radio van was broadcasting and there was a nice cricket field to sit on while the rest of the runners came in. A most impressive car park was on loan from Norwich Union and their clubhouse showers were for the use of ladies only, the gents having to use the cricket pavilion.  After warming up in the shower, Martin and I went for the necessary beer & crisps to nearby Arundel, with steep hills to walk up - highly recommended as a warm-down!
Hairy Legs Challenge, 14th May
Kevin
I heard about the Hairy Legs Challenge from doing the Boneshaker last year and thought it sounded like fun. It is the same format as the Boneshaker - 5k run, 20k bike then 5k run.  I arrived at the station in Goring and struggled to find a space.  Got all my kit together and was just about to set off for the start, went to put on my helmet and found out I'd left helmet at my house.  I dispatched my dad to go and get it while I guarded our car park space.
The race started from the sports field in Goring.  The transition area was numbered for your bikes but everybody was just taking the nearest space to the exit from transition.  I stored my bike, shoes (Velcro undone of course, those few seconds can make a difference!) and camelback and went for a wander.  There were lots of stalls and a climbing wall on the field, time flew and pretty soon us 250 competitors were all gathered on the start.  The run went left out along towards a narrow track and headed up toward the woods behind the sports field it was fairly flat up to a climb just before entering the woods here its went onto a muddy footpath and wound back and forth through the woods coming out on top of a hill which ran down to the transition.
Transition went smoothly and the bike course went out along the same track as the run before bearing right and heading toward Pangbourne.  We entered a wood and there was lots of fast flowing single track, which was brilliant, soon we had gained some height and could look down into the valley.  Then we came to a huge set of approx 30 steps that we had been instructed not to ride down.  I could barely walk down them they were so huge!  Then almost immediately the steps went back up the other side of the dip.  From the smell I think we were near the wildlife park at this point as we continued on to Mapledurham.  At the 10k turning point of the route we rounded a bend and were faced with a very steep climb.  I battled but had to get off and stride up with the bike (felt ok when I looked back and saw everyone else was doing the same) from here the route was fairly flat all the way to Whitchrch Hill where there was a slight climb through the village, then onto a very fast downhill single-track that swung in tight turns back to the sports centre to transition.
The second run was the same course as the first.  I was in a bit of a state for about 2k then my legs got back into running mode from cycling.  Even the slightest hill was killing me at this point as my thighs kept on cramping up.  I was pursued through the woods by a lady and she kept me pushing to the end.  I came down the last hill to the finish and caught two people just before the line.
It was a really great day out we all received a t-shirt for taking part.  My times were first run 28:02 - bike – second run 35:16.  Overall , 165th out of 194 individuals.
Lucy
This race starts at Thorpe in the Peak district and follows the Tissington trail North-East for 11 miles, then turns South-East down the High Peak trail for another 15 miles to finish at Cromford.  The entire route is off-road, but the surface is very smooth, designed for cyclists but yielding enough for runners with sprained ankles!  Fortunately I had found some instructions for 'taping up a sprained ankle' and it was all wrapped up like a turkey.  The weather was good for marathons, with mild temperatures and gently driving rain, which for 15 miles anyway was at our backs.  The first 11 miles had a gradual climb of 800 ft, so wasn't too flat, and kept my speed down.  I wasn't feeling so on-form as for the Three Forts so even though I was there to get a 'good for London' time I soon found myself in the 'chatty' end of the field.  The scenery was worth a look too, as much of the race is on ridges.  If only I had brought my glasses!  Apart from two gates and one busy road there was a pretty much unbroken route all the way, so not much to slow me down.  There were of course path-wide puddles, which the more squeamish Northerners were picking their way round, but it was far safer to blast through, as the path was extraordinarily well maintained, with no potholes.  This even allowed me to overtake a few people in the second 10 miles, just when I wasn't feeling so good.  After 21 miles came the bit I had been waiting for – three precipitous slopes reaching almost to the finish.  At this point I realised I might just be able to make the good-for-age time, so plummeted away from the rest of the field mid-sentence!  As the course flattened out onto a hard towpath it looked like touch and go, but with a final effort I skirted two mis-placed pedestrians and lunged onto Cromford Meadow and the finish line. !  The first man and lady were and respectively, and there were 201 finishers.
So that's me, Sus and Martin at the Green Start next FLM – anyone care to join us…?
Ollie Johnson Memorial Kintbury 5M Road Race, 29th May
Sue
Lucy, Kevin, Andy and I represented Compton Harriers in this enjoyable and friendly local event.  This year, the race was renamed as a tribute to Ollie Johnson, a popular local teenager who was a promising athlete before his premature death in a traffic accident last Christmas.  The race attracted a record entry, including good athletes from Berkshire and Hampshire clubs.  Organiser Dave Wright (you might have heard Martin mention him…) is famed for arranging hot, dry and sunny weather for this race.  This year was cool and blowy, but the rain held off, and the sun did shine at times.  The race was won by Andrew McCleod (Newbury A.C.) in 26:24, a minute ahead of the second man.  First lady was Rachel Kenchington of Overton Harriers (29:50).  I was the Harriers first finisher in 31:13 (31st, and 5th lady), closely followed by Andy (31:54, 38th).  Lucy finished in 36:57 (100th, and 8th FV40), with Kev completing the team in 39:47 (138th). There were 242 finishers.  Thanks to Mo for supporting at the top of the hill, and for race photography.
Compton Harriers also competed in………..
<![if !supportLists]> · <![endif]>The Woodley 10K which Pete completed in around 44 minutes.
<![if !supportLists]> · <![endif]>The Oxford Town & Gown 10K where Andy and Kev ran well, despite atrocious weather conditions.
<![if !supportLists]> · <![endif]>The Marlborough Downs Challenge (20M) in which Susanne and Dick ran together to finish in a very respectable , in 14th position.
IAH-Compton Relay Race, 25th May
Sue
In a week of heavy rain, we were very lucky that Thursday was the only nice day – warm, sunny and dry.  The grass was a bit long in places, and one of the paths rather muddy, but all went smoothly.  I was very pleased to have nine teams taking part, considering the reduction in staff that the IAH has seen over the past year.  Right up to the day before the race, last year's winners (The Four Musketeers) were firm favourites – all good runners, and with a generous handicap too.  However, with Susanne laid up with flu, captain Pete was forced to substitute her with a man thus losing 2 minutes from the team handicap.  This left the race wide open, with all teams starting within a time interval of 3 minutes.  The first leg saw James Graham (J2S2) hand over first with 40 seconds lead on Graham Prescott (Contracted Out), then Keith Simpson (Four Musketeers).  Meanwhile Mo, 'The Old Boys' first leg runner, worked hard to gain over 2 minutes on 'Fifty Fifty' from an unfavourable handicap.  Leg 2 saw Geoff Oldham take the lead for The Four Musketeers, while Matt Oakes moved 'Three Men & a Lady' into second spot, and Jo Martin held onto third for 'J2S2'.  On lap 3, Pete H (Four Musketeers) passed on the baton to Lucy, marginally ahead of me (J2S2) passing to Steve Banner, and the race was on.  Meanwhile, Andy Buckland brought 'The Misfits' into third place, handing to Kevin (running his second lap of the evening), and Dick gained three places to move 'The Old Boys' off bottom spot.  I was pleasantly surprised to see my team-mate Steve Banner enter the cricket field in first place, having given it 100 percent to pass Lucy.  Thus, 'J2S2' were the champs (48:06), ahead of 'The Four Musketeers' (49:49), then 'Three Men & a Lady' (49:10).  Martin was the fastest man () ahead of Andy (), Dick (), Terry Field () and Steve Banner ().  The top five ladies were me (), Lucy (), Janene Bumstead (), Fiona Wycherley () and Alison Hogg ().  Full results can be seen on the club website.
Thanks to all Harriers and spouses who helped make the evening so successful: Jan for doing an excellent time-keeping job as usual; Elo for marshaling; Dick for putting up the banner; Lucy and Martin for taking down the route-markers; and Mo for a very efficient computer results service.
Mo
As the world cup is now upon us there are several links I can recommend that cover everything you need to know from latest news to trivia and games … here are just three: - One of the easiest sites to use is http://fifaworldcup.yahoo.com/ which quickly provides all match schedules and locations together with profiles of all players.  In addition to this there is a trivia quiz and a downloadable match predictor programme (made for Pete!).  Next, the BBC site is second to none for information on the big event (http://www.bbc.co.uk/sport/)… it too has a match predictor programme, but I found it slow to download, so you need to be patient … when you have made your predictions, there is also a facility to email them to a friend … scope for a wager or two no doubt.  For up-to-the-minute news, try http://www.newsnow.co.uk/worldcup and finally in this section, I suggest a visit to find out all about our own local representative at http://www.theo-walcott.org.uk where there are also some excellent links to other football information sites.
Now to running!... First of all, well done to Dick for yet another successful outcome for the Grand Union Canal Race;  the results are on line and can be accessed by clicking the link on the front page of our website or using the link http://gucr.co.uk/ .
Alton Sports Running has launched a website designed to provide running equipment to suit the personal needs of the individual.  Membership is free and members will receive email offers to match their membership profiles … if you are interested, the link is http://www.cautionrunners.com/ .
Events Diary: A selection of local and other well known events for your information.  If you need any entry forms, I can email most of them on request and others are likely to be on the club notice board.
<![if !supportLists]> · <![endif]>Sunday 11th June 2006 – CHILTERN CHASE , Ewelme Village, between Oxford &
Henley http://www.chilternchase.org.uk (Multi-terrain)
<![if !supportLists]> · <![endif]>Sunday 11th June 2006 – SOUTH DOWNS MARATHON & RELAY – , White Ways Country
Park, nr Arundel Castle to finish at Queen Elizabeth Country Park. http://www.209events.com
<![if !supportLists]> · <![endif]>Sunday 11th June 2006 – ST ALBANS HALF MARATHON – (½ Mthn); (Walkers),
     Verulamium Park, St Albans.  http://www.stalbanshalfmarathon.co.uk
<![if !supportLists]> · <![endif]>Sunday 18th June 2006 – THE RIDGEWAY RELAY (86.5 miles) – , Ivinghoe Beacon,
Nr Aylesbury, Buckinghamshire http://www.marlboroughrunningclub.org.uk
<![if !supportLists]> · <![endif]>Sunday 25th June 2006 – LAMBOURN 6K FUN RUN – 10:30 am, The Lambourn Centre, Close End,
     Lambourn.  LambournRec@westberks.gov.uk (entry forms also on club notice board).
<![if !supportLists]> · <![endif]>Sunday 25th June 2006 – GREAT BEDWYN 10K ROAD RACE – , Great Bedwyn Village Hall,
   Nr  Marlborough, Wilts http://www.grassrootsevents.co.uk
<![if !supportLists]> · <![endif]>Saturday 1st July 2006 – THE COMPTON CANTER 6 COUNTRY MILES – ,
Compton Recreation Ground. http://www.comptonharriers.org.uk
<![if !supportLists]> · <![endif]>Saturday 8th July 2006 – HARWELL SCHOOL FUN RUN ~5 MILES– , Harwell School -
entries £2 on the day from – un-marshaled.
<![if !supportLists]> · <![endif]>Saturday 1st July 2006 – DORNEY DASH 10K – 10:00 am, Dorney Lake, Nr Windsor.
     http://www.datchet-dashers.com
<![if !supportLists]> · <![endif]>Sunday 9th July 2006 – WYCOMBE HALF MARATHON – , High Wycombe, Bucks.
<![if !supportLists]> · <![endif]>Sunday 9th July 2006 – NEW FOREST 10 (MILES) – , New Park Farm, Brockenhurst, Hampshire.
   No entries on the day. http://www.nf10.co.uk
<![if !supportLists]> · <![endif]>Sunday 16th July 2006 – PINEWOOD , Pinewood School, Bourton, Swindon, Wiltshire
   http://www.grassrootsevents.co.uk
<![if !supportLists]> · <![endif]>Sunday 16th July 2006 – TADLEY RUNNERS SUMMER 10K ROAD RACE (and 3k Junior fun run) –
   , Hurst Community School, Tadley (Fun run start time )
  http://www.hants.org.uk/tadleyrunners/
<![if !supportLists]> · <![endif]>Sunday 23rd July 2006 – THAMES RUN , Wallingford, On the Thames between Oxford &
 Henley.  http://www.thamesrun.co.uk (Multi-terrain)
<![if !supportLists]> · <![endif]>Wednesday 2nd August 2006 – PEWSEY MID WEEK 5 (5-mile road race) – ,  Pewsey School,
  Wilcot Road, Pewsey, Wiltshire http://www.pewseyvalerunningclub.com
<![if !supportLists]> · <![endif]>Sunday 27th August 2006 – VALE OF PEWSEY HALF MARATHON – , 
Pewsey Sports Centre, Wiltshire http://www.pewseyvalerunningclub.com
<![if !supportLists]> · <![endif]>Sunday 17th September 2006 – BONESHAKER 2006 – 10:30 am, Ardington Sports Field, Nr Wantage.
<![if !supportLists]> § <![endif]>Sunday 17th September 2006 - LONGWORTH 10K RUN AND 3K FUN RUN - 3k starts at 10:15 am, 10k at 11:00 am, Longworth is 6 miles West of Abingdon, just off the A420. The 10K course is multi terrain, mainly on tracks or footpaths; much of it is close to the Thames.  Entry form on Club notice board
<![if !supportLists]> · <![endif]>Sunday 1st October 2006 – GREAT CLARENDON FULL/HALF  & RELAY MARATHON –
     Winchester College (full & relay), Broughton Village Hall (half).
      http://www.clarendon-marathon.co.uk
<![if !supportLists]> · <![endif]>Sunday 29th October 2006 – BARNS GREEN HALF MARATHON – Barns Green Village,
  5 miles south west of Horsham, West Sussex. http://www.barnsgreen-half.org.uk
 (Mo – June 2006)