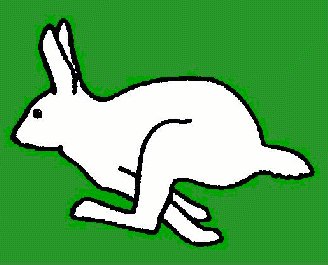 THE HARRIERS HERALD
No. 157, March 2006
Editorial
Welcome to March's Harriers Herald, beginning with Thursday night schedules and Secretary's correspondence.

 

Our members took part in a variety of races last month with success all round.

 

Lucy tells of her experiences in the Long Mynd fell race while Kevin, our latest recruit, reports on a PB in the Woburn 10K, and I tell of Harriers success in the Goring 10K.

 

There are also brief results for the

Oxford

Mail cross-country
and Dursley Dozen.

 

The penultimate race of the Winter Handicap Race series has taken place and, with only one race remaining, there is no let up in the battle between Martin and Lucy!

 

Mo's Website Update features an informative fitness article for us veteran runners, called "Time Marches On".

 

His Events Diary covers a range of popular events from the months of March to October.

 

March sees the running of a couple of important annual Harriers events.

 

Firstly, at least seven club members will be competing in 'The Grizzly' on 12th March.

 

Then, on 25th March, our club will be staging the 11th 'Compton Challenge' – please speak to Dick if you are able to help.

 

I'm sure both the Grizzly and the Compton Challenge will once again be very successful events for the club.
Thursday night schedule for March
Thurs    2nd                    Kirsty to lead
Thurs    9th                    Handicap Race
Thurs    16th                  Tom to lead
Thurs    23rd                        Preparation for Compton Downland Challenge
Sat       25th                  Compton Downland Challenge
Thurs    30th                  Mo to lead
Thursday night schedule for April
Thurs    6th                    Sue to lead                  
Thurs    13th                  Handicap Race
Thurs    20th                  Martin to lead
Thurs    27th                        Dick to lead
Saturday Training Run – 4th March
Contact Lucy for full details.
For those who fancy a long off-road run, there will be a 20-mile training run on Saturday 4th March, around the Compton Challenge 20M route.

 

Lucy suggests everyone runs at their own pace without runbacks, and she will be planting bottles of water at various locations on the route.

 

Meet
, Institute car park,
Compton
.
Correspondence received by Secretary
Correspondence received

Sender

Subject matter

Action

SEAA

Info. Update #97; preliminary notice of AGM

File

Leeds Half Marathon

Entry forms for Leeds Half Marathon (07-05-06)

Events Diary & notice board

Handy Cross Runners

Entry forms for Marlow 5 (07-05-06) & Wycombe Half (09-07-06)

Events Diary & notice board

Conferio Ltd.

Advert for Trionium magazine (free online run / cycle / swim / triathlon magazine

Leaflets passed round to members

Events Manager, Asthma UK

Entry forms for Dorney Lake (Windsor) 10K (15-04-06) including two complimentary entry forms

Events Diary & notice board

Complim entries to LG & SE

UKA

Annual Review 2005

File

AAA

AGM: minutes of 2005 AGM, annual report, accounts, voting forms

Read, discuss, and vote if appropriate

Peter Masters (England Athletics)

Voting guidance for AAA AGM

Assoc. of GB Athletic Clubs (ABAC)

Voting guidance for AAA AGM

SEAA

Info. Update #97B; voting advice for AAA AGM; SEAA affiliation update; Athletics Development Update

File

Running Imp

2006 mini catalogue

File

Clarendon Way Marathon organisers

Entry forms for Great Clarendon Way full/half/relay marathon (01-10-06)

Events diary

Notice board

Front Runner

Catalogue of medals, numbers, trophies, signs etc.

Any use for CDC ?

Assoc. of GB Athletic Clubs (ABAC)

New insurance scheme for clubs affiliated to 'ABAC' instead of to 'England Athletics'

Pass round for discussion
Lucy
Martin, Colin and myself took part in this 10.5-mile fell race in the Long Mynd Valley – so pretty it has recently been featured on a stamp.  It was a race of two halves, starting in a grassy valley and climbing and descending into a few others with no greater effort than a Streatley session.  About three-quarters of the way round however, there appeared the first of three 200 metre climbs that could only be made with extensive use of the upper body – still pleasant, grassy hills, but with an absurd gradient.  Luckily the weather was dry, so the descents could be made without slipping, sometimes on delightfully springy peat or young bracken – very low potential to maim compared with normal fell races.  The course was not marked, so it was essential for me to remain within wailing distance of another runner.  No water was provided either, but we were required to carry a map and waterproofs anyway so a litre was no bother.  The only drawback was the journey – over 2 hours from home, but in my opinion well worth it for a hill session you just can't get in Compton.
Results:
1st Man            Lloyd Taggart                           1:36:58
16th                  Colin Fray                                1:52:23
26th 1st lady      Jackie Lee                                1:57:23
45th                  Martin Fray                              2:07:56
69th That geezer that wrote 'feet in the clouds' 2:16:03
144th                Lucy Gettins                             2:51:32
172nd                Last finisher                              4:23:38
Oxford Mail League Cross-Country: Round 4, Cirencester Park, 5th February
Sue
Woburn 10k, Sunday 19th February
Kevin
Preparation had gone exactly to plan for the run, right up until the night before when my dog got ill and I was up five times in the night to allow him to "go."  I was out of bed at six.  A quick look out of the window - dry, open window – not too cold.  Apart from no sleep all was good!
Woburn was simple to find and there were marshals guiding you to the car park.  I arrived with lots of time to spare and felt the nerves starting to come on so went to find the toilets.  At the third try I found a porta-loo with some loo roll in it.  It seems everyone else was searching as well as I kept on hearing from inside "Is there any toilet roll?"  Now all changed and strolling over to the start I suddenly realise I'm going to be very cold, it didn't seem that cold when I arrived, but I was really feeling it now. Fortunately there was a stand selling t-shirts so I grabbed one on the way past.
At the start, with sleeves stretched so I can clench them in my fist to keep my hands warm and my dad's borrowed woolly hat (I looked like a pro, not) I waited with all the others.  Eventually they started, about 15mins late.  Everyone lurched forward and we started running for ten yards, then it clogged up to a walk, then running again and actually passed the start line.  It started with a run along the drive past a house with animal sheds and stables.  It was very full at the beginning and people were cutting the course lots to get with their own paced runners.  In no time at all we passed 1km, quick watch check – 5 mins, need to slow down. The course then went slightly down past a few lakes and a huge stampeding herd of deer up to 2km, quick watch check – 10 mins, need to slow down.  Here the course bends back, and starts to a climb to the peak, which is at about the 6km stage.  We passed a lioness looking through the fence from her enclosure licking her lips.  I gave up looking at my watch at 3km when there were just over 15mins elapsed.  The climb continued and we turned through an "S" bend and ended up coming back into the safari park with the now arriving public driving their cars on our right, crawling along.  From here it was a down hill up to 8km which flew by and before I knew it I passed the 9km sign.  Checked watch, 49mins - yes, well under my predicted finish I felt pretty good so I really pushed on for the last km and crossed the line flying.  I felt awful afterwards for about five minutes and thought I was going to "blow".  We were herded away from the finish line and got a bag of energy powder and drink. And that was that!
Getting out of the park was a nightmare, we sat in a queue for an hour but I was well stocked up with a bacon sandwich and a cuppa. The race was brilliant and I'll definitely be back next year.
P.S. my time was 53:55 which was 3 mins off my last 10k time.
Kev
The Dursley Dozen, 12M multi-terrain, 19th February
Five Compton Harriers took part in the Dursley Dozen, with success all round.  There will be a full report next month but, in the meantime, here is a summary of our results: Martin, 11th and 1st MV45 (85:51); Sue, 123rd, and 2nd FV35 (101:22); Sus, 172nd (106:04); Lucy, 185th (107:53); Pete, 250th (114:22).
The Race winner was Vito Graffagnino (U/A) in 77:13, and the leading lady was Helen Fines (Bristol & West) in 91:55.  There were 412 finishers, and the last man home took 167:18.
Sue
The Goring 10K once again attracted close to 1000 runners, despite the fact that the entry fee had been considerably increased this year to £12 (unless you happened to enter, or be entered, using last year's form!). Mo (on his bike) and I arrived at the Gardiner recreation ground in good time, and soon bumped into Martin, Lucy and Sus.  There is plenty of space at the Rec. for the pre-race gathering, but the facilities are rather limited for the number of competitors that the race now attracts.  The 'baggage tent' was overflowing and, despite the fact that there were additional portaloos this year, the toilet queues were still long only five minutes before start time.  Making sure there were no little children close by, I decided to make use of my usual laurel bush (which is big enough to climb into) only to find that I was in partial view of a several old ladies enjoying breakfast in a conservatory in the nursing home across the lane.
The start was pretty crowded, but it was nice and warm amongst all those runners, on what was a pretty chilly day.  The gun went, and we set off following the usual route.  For the first 1K it was still crowded, as some relatively steady runners had started a bit too far forward.  After that, the field spread out and even pacing became easier.  The strong wind blowing from the North made the 2-4K section hard going, particularly as this part is exposed and mostly uphill, but the remainder of the route was mostly sheltered or wind-assisted.  A route change in the later stages of the race meant we returned from the 'Leathern Bottel' to Goring along the bridleway (instead of the main road) which was much better.  The deficit in distance was made up with an extra lap of the recreation ground at the finish.
All finishers were rewarded with a medal and a Mars Bar.  I finished in 40:16 (39th, and 2nd lady), with Sus next in 43:34 (104th, and 2nd FV40).  We were both about 20 seconds slower than in 2005 but, given the cold wind, we were quite happy with these times.  However Lucy, with Martin as pacer and windbreak, recorded a fantastic PB, running sub-45 for the first time (44:42, 140th and 4th FV40).  She out-sprinted Martin at the finish and he was 142nd (44:43).
There were 1081 competitors.  The first man was Chris Dettmar (Headington RR) in 33:29, while first lady (Belinda Davies of Reading RR) took 39:14.
Handicap Race
Sue
Well, the weather was warmer for February's Handicap Race, but it was pouring with rain as the seven competitors set off on their warm up lap.  The roadworks, which had impeded us last month, had moved along towards The Swan and there were still barriers, road signs and queuing cars to dodge, if you happened to arrive at the traffic lights at the wrong time.  In far from perfect conditions Martin ran well, starting at the back and passing everybody, to finish with a winning margin of 16 seconds and a very respectable time.  Lucy too recorded a good time, to take second spot.  Sue just passed Sus to claim third spot, with Dick close behind Sus.  Tom and Mo, both on their way back from injury problems, completed the field.  Well done to Martin, and thanks to Jan for timing.  The next Handicap Race is scheduled for 9th March.
| | | | | | |
| --- | --- | --- | --- | --- | --- |
| Pos | Name | Start time | Finish time | Actual time | Handicap Beaten? |
| 1 | Martin | 3:43 | 14:47 | 11:04 | -0:13 |
| 2 | Lucy | 1:31 | 15:03 | 13:32 | +0:03 |
| 3 | Sue | 3:11 | 15:14 | 12:03 | +0:14 |
| 4 | Susanne | 2:16 | 15:16 | 13:00 | +0:16 |
| 5 | Dick | 1:56 | 15:28 | 13:32 | +0:28 |
| 6 | Tom | 0:52 | 18:29 | 17:27 | +1:47 |
| 7 | Mo | 0:52 | 21:24 | 20:32 | +3:14 |
Martin and Lucy continue to dominate the 'scoreboard' for the Winter Handicap Series.  Martin's win in February's race moves him just one point ahead of Lucy.  With one more race to go in the series, both are still in contention and, remember, the final score will only include the best five performances of each individual.  In the event that Martin and Lucy end up with equal final scores, the winner will be the one who has the most wins, the most second places etc.  The final scores will be announced and the prizes presented as soon as possible after March's Handicap Race.
 Position

Name

Race points

Race 1

Race 2

Race 3

Race 4

Race 5

Race 6

Total

1

Martin

7

4

6

4

7

-

28

2

Lucy

5

7

4

5

6

-

27

3

Sue

4

5

3

2

5

-

19

4

Susanne

1

6

2

-

4

-

13

5

Dick

6

-

-

1

3

-

10

6

Pete

3

-

5

1

-

-

9

7=

Kirsty

2

-

-

6

-

-

8

7=

Kevin

1

-

7

-

-

-

8

9

Jane

-

-

-

7

-

-

7

10

Vicky

-

-

-

3

-

-

3

11

Tom

-

-

-

-

2

-

2

12

Mo

-

-

-

-

1

-

1
Mo
When writing up my webmaster report I tend to leave it to the last minute to review websites for inclusion in my suggested links of the month.  Well, this time I seem to have been caught out by BT who have managed to take away my broadband connection … although they call it a 'network fault'.  This means that not only am I unable to check out possible sites for my update, I also can't access the website to update it either.  According to BT, the best date they can give me for return of the line is 1st March and the worst is no longer than 2 weeks time!  For the inconvenience they have agreed to pay out the massive sum of £1 … or could this be 'hush money' to stop me complaining to Oftel?
Anyway, although I don't have any links for this month, I do have a topical article cribbed from Runners World recently, regarding the effects time (i.e. getting older!) has on running performance.  I thought it would be particularly relevant this month following the ever-improving performances demonstrated by Lucy in contrast with the continuing struggles of Tom and me … the article is called "Time Marches On".
Time Marches On:
Research suggests your running is unlikely to improve after the age of 40, except for Lucy who has bucked the trend.  By knowing what to expect in each decade you too could hold back the years.
20s: Your running may still be improving, Kevin, but your heart is already slowing down – by around one beat per year.  Your maximum heart rate controls the oxygen pumping round your body, as you age less oxygen is available, slowing performance.  This decrease in capacity could amount to a loss of at least seven per cent in performance per decade.
30s: Your metabolic rate slows by two per cent every decade after 20.  That means that with each passing decade, Sue, you need to eat 100 fewer calories every day to maintain your weight.  Also, what you're eating becomes even more important (especially if it's chocolate!).  A variety of fresh fruit and vegetables will give you the antioxidants your body needs to protect it from the damaging free radicals created by exercise and the ageing process.  The number of muscle fibres you have also falls by three to five per cent per decade after 30.  Try cross-training to maintain muscle strength.
40s: After the age of 45, Martin, Professor Tim Noakes believes you should reduce your training by 25 to 40 per cent. "At first try to achieve as much as possible on a minimum of training," he advises.  He adds that older runners perform better on less training because the margin between optimum training and overtraining is small, making injury more likely.
50s: You might be slowing down in your 50s, Mo, but your training needs to speed up.  In a study at the University of Iowa in the US, researchers concluded that the range of motion in knees falls 33 per cent from the ages of 35 to 90, but that the greatest changes occur after the age of 50.  Even though running will delay your loss of flexibility, you should introduce speedwork to keep you limbered up.  "Fast-twitch muscles are the first to deteriorate," says RW Medical Adviser Dr Patrick Milroy.  "Adding some sprints to a fartlek session (I do plenty of that!) will improve your flexibility as you stride out more".
While the decline in performance with age is likely to be linear in men, some women experience an acceleration with the menopause.  The average age for the menopause is 50 in the UK, and while anecdotal evidence suggests it may come sooner to runners, the symptoms are likely to be alleviated by being active.
60s: "Retirement may have a positive or negative effect on your running," says Milroy.  "If you are motivated, you're likely to improve, since you'll have more time to run".  But with more time on your hands, Tom, you might also be tempted to train more.  Be careful!  "Soft tissue becomes less elastic as you age, so you'll take longer to recover from both injury and a hard session", adds Milroy.  Cross-training will reduce the continuing decline in flexibility and muscle strength.
Events Diary: A selection of local and other well known events for your information.  If you need any entry forms, I can email most of them on request and others are likely to be on the club notice board.
<![if !supportLists]> · <![endif]>Sunday 5th March 2006 - OXFORD MAIL X-COUNTRY LEAGUE – Banbury
<![if !supportLists]> · <![endif]>Sunday 12th March 2006 – THE GRIZZLY 2006 – 10:30 am, Seaton, Devon.
<![if !supportLists]> · <![endif]>Sunday 12th March 2006 – BANBURY 15 – 10:30 am, Spiceball Park Sports Centre, Banbury
     http://www.banburyharriers.org/ Closing date: March 4
<![if !supportLists]> · <![endif]>Saturday 25th March 2006 – THE 11th COMPTON CHALLENGE – 9:00 am, The Downs School,
Compton, Newbury, Berks. http://comptonharriers.cjb.net
<![if !supportLists]> · <![endif]>Saturday 25th March 2006 – FRIMLEY PARK HOSPITAL 10K & 2.5K FUN RUN – 09:30 am Frimley
   Park Hospital – Entry forms on club notice board.
<![if !supportLists]> · <![endif]>Sunday 2nd April 2006 – 24th WHITE HORSE HALF-MARATHON - 10:00am, Millbrook School, School
     Lane, Grove, Oxon OX12 7LB  http://www.whitehorseharriers.org
<![if !supportLists]> · <![endif]>Sunday 9th April 2006 – READING HALF MARATHON & GREEN PARK CHALLENGE 4K –
10:05 am
 Green Park (Behind Madejski Stadium) and 10:15 am for the 4k Challenge. http://racepayment.mirrorservers.co.uk/readinghalfmarathon
<![if !supportLists]> · <![endif]>Sunday 9th April 2006 – BENSON 10K – 10:30 am, Parish Hall, Benson, Oxon. 
 (Closing Date 26th March 2006). Entry forms available from me if you are interested – no event website.
<![if !supportLists]> · <![endif]>Friday 14th April 2006 – MAIDENHEAD EASTER 10 (miles) – 09:30 am, Woodley Hall, Littlewick Green
<![if !supportLists]> · <![endif]>Easter Saturday 15th April 2006 – ASTHMA UK 10K – 10:OO am, Dorney Lake, Windsor
<![if !supportLists]> · <![endif]>Sunday 23rd April 2006 – THE LONDON MARATHON – 09:45 am, Blackheath, London
  http://www.london-marathon.co.uk/
<![if !supportLists]> · <![endif]>Monday 1st May 2006 – MAY DAY FUN RUN 5.2 Miles – 11:00 am, Regatta meadows, Henley-on-
Thames.  Entry forms from me or Sue.
<![if !supportLists]> · <![endif]>Tuesday 2nd May 2006 – SILVERSTONE GRAND PRIX 10K – 07:30 pm, Motor Racing Circuit,
Silverstone http://www.silsonjoggers.org.uk
<![if !supportLists]> · <![endif]>Sunday 7th May 2006 – LEEDS HALF MARATHON – 10:00 am, Leeds City Centre,
   http://www.leeds.gov.uk/runleeds
<![if !supportLists]> · <![endif]>Sunday 7th May 2006 – MARLOW 5 MILE RUN – 09:30 am, Hugginson Park Marlow, Bucks. 
     Entry forms on notice board or from me.
<![if !supportLists]> · <![endif]>Sunday 11th June 2006 – CHILTERN CHASE 10K – 10:00 am, Ewelme Village, between Oxford &
Henley http://www.chilternchase.org.uk (Multi-terrain)
<![if !supportLists]> · <![endif]>Sunday 11th June 2006 – SOUTH DOWNS MARATHON & RELAY – 10:00 am, White Ways Country
Park, nr Arundel Castle to finish at Queen Elizabeth Country Park. http://www.209events.com
<![if !supportLists]> · <![endif]>Sunday 9th July 2006 – WYCOMBE HALF MARATHON – 09:30 am, High Wycombe, Bucks.
<![if !supportLists]> · <![endif]>Sunday 23rd July 2006 – THAMES RUN 13K – 11:30 am, Wallingford, On the Thames between Oxford &
 Henley.  http://www.thamesrun.co.uk (Multi-terrain)
<![if !supportLists]> · <![endif]>Sunday 1st October 2006 – GREAT CLARENDON FULL/HALF  & RELAY MARATHON – 10:30
am Winchester College (full & relay), 12:00 noon Broughton Village Hall (half).
http://www.clarendon-marathon.co.uk<![if !supportNestedAnchors]><![endif]>
(Mo – March 2006)