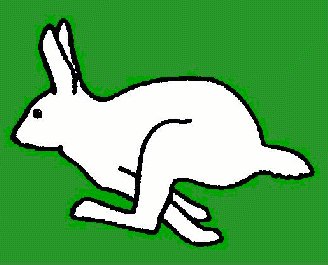 THE HARRIERS HERALD
No. 159, May 2006
Editorial
Welcome to May's Harriers Herald.

 

Thursday night schedules

for May and June are followed by

Secretary's correspondence,

details of the

IAH-Compton Relay Race

, and results of the recent

Handicap Race.

 

Last month, the Harriers had great success in a range of events.

 

Pete reports on the Reading Half Marathon,

Sue P and Sus share their

London Marathon

experiences, and there are brief results for the

White Horse Half, Asthma UK 10K, Benson 10K,

and

East Hagbourne fun run.

 

Mo's

Website Update

features an article on 'tapering' and the

runningcoop email newsletter.

 

Mo's Events Diary

covers a variety of races from the Compton Canter, to the South Downs Marathon, and the Boneshaker Duathlon.
Thurs    4th                    Lucy to lead                
Thurs    11th                  Sus to lead                  
Thurs    18th                  Pete to lead
Thurs    25th                  IAH Relay         
Thursday night schedule for June
Thurs    1st                    Tom to lead                 
Thurs    8th                    Kevin to lead
Thurs    15th                  Handicap Race
Thurs    22nd                  Kirsty to lead
Thurs    29th                  Boundary Race?
Correspondence received by Secretary
Correspondence received

Sender

Subject matter

Action

SEAA

SEAA Chairman

AGM: annual reports, voting papers

Advocates voting for Chris Carter as Hon. Sec.

File

Abingdon Amblers

Abingdon Marathon entries (22-10-06)

Notice board, Events Diary

Thames Valley Air Ambulance

Fund-raising events (including races)

Notice board

England Athletics

Reply to query re membership

Pass round

New Forest Runners

New Forest 10 entries (09-07-06)

Notice board, Events Diary

England Athletics

Nomination forms for SE regional committee

File

UK Athletics

Information of coaching licences

File

UK Athletics

UKA competition rule book; SEAA info. update #99

File
The Relay will be held on Thursday 25th May, starting at 5:30 pm from the cricket field.  The format (teams of four), route (4 x 2530m), rules, and handicaps should be the same as last year, unless there are any major objections.  The Relay is open to IAH, Jenner & Schering-Plough employees, Compton Harriers and other IAH Recreation Association members.  In each team, at least two members should be employees and/or other Rec. Soc. members, but up to two team members can be guests, should you be struggling to make up a foursome.  Some of the Harriers will be in established teams (last year's winners The Four Musketeers, and former winners The Old Boys) but, if you want to run and are not part of a team, let me know because there will undoubtedly be IAH teams who are short of runners.  Also, if you are able to recruit any helpers for marshalling or helping Jan with the timing, it would be much appreciated.  The BBQ will be burning and the Bar open, with a drink voucher for competitors and helpers.
The provisional date for the Boundary Race, where competitors run or walk around the Boundary of the Institute estate and farms (~ 8.5 miles), is Thursday 29th June – to be confirmed.
Sue
It was cool and blowy for April's handicap race, but at least we were able to run in daylight, and there were some good performances.  Tom and Mo set off first, together, but Tom decided he'd like to run in the reverse direction, so he set off anti-clockwise and Mo went clockwise.  Kev was next to start.  His recent 10K PBs have shown he is improving all the time, and so his handicap PB was no surprise.  He improved by 50 seconds, and built a good lead for a comfortable victory.  Dick in second, and Sue in third both ran their fastest times for some months.  Tom, who enjoyed running 'backwards', finished next, with the ever-consistent Lucy, then Martin close behind.  Mo also recorded his best time for several months.  Well done to Kev, and thanks to Jan for timing.  The next Handicap Race is scheduled for Thursday 15th June.
| | | | | | |
| --- | --- | --- | --- | --- | --- |
| Pos | Name | Start time | Finish time | Actual time | Handicap Beaten? |
| 1 | Kevin | 1:38 | 15:48 | 14:10 | -1:12 |
| 2 | Dick | 3:48 | 16:28 | 12:40 | -0:32 |
| 3 | Sue | 5:03 | 16:38 | 11:35 | -0:22 |
| 4 | Tom | 0:53 | 16:58 | 16:05 | -0:02 |
| 5 | Lucy | 3:34 | 17:05 | 13:31 | +0:05 |
| 6 | Martin | 5:50 | 17:17 | 11:27 | +0:17 |
| 7 | Mo | 0:53 | 20:10 | 19:17 | +0:34 |
Reading Half Marathon, 9th April
Pete

Sunday 9th April marked the 24th staging of the Reading Half Marathon. Being the only race to finish inside a Premiership football ground this provided the incentive for me to enter. Traffic gridlock at last year's event and the fact that none of the car parks at the stadium would be open on the day as they were covered with marquees (used for changing facilities and baggage storage) led the organisers to recommend all competitors arrive two hours before the start time. Indeed one of the suggested car parks was at Shire Hall some 1.5 miles away or a 15 minute jog per the race programme. I decided that 13 miles was far enough to run and that a lie in was the order of the day. I thus used my local knowledge - attending the Mad Stad every fortnight to watch the champions in action - and found a parking space a couple of hundred yards from the start and even had time to visit the sponsor's shop before the race.
The race started on one side of a dual carriageway within Green Park. With 14,100 runners billed as entering, the big problem was finding a bit of spare tarmac to stand on for the start. At one point I thought I would have to begin from the central reservation. When the start gun sounded I initially thought it was a false start as no one seemed to be moving. Eventually I walked across the start line and finally broke into jogging pace. It was a good half mile before there was enough space to run at race speed.
The course was billed as fast although that only applied to the lead runners due to the congestion in the early stages. The route was essentially flat with only one significant hill, that being the climb through Witley Wood up to the University. There was good crowd support around the course and one assumes that later runners would have been welcomed by even bigger crowds in the town centre once the shops opened.
I set myself a target of 1:40 and was guided by a pace band I picked up from the Lucozade trade stand which set out the times at each mile point required to achieve my goal. The course had a cruel twist in the tail for the 11 mile mark was only a few hundred yards from the stadium but at which point the route veered sharp right. After running for almost a mile into Green Park one then circumnavigated a roundabout and proceeded back along the opposite side of the dual carriageway before a slight incline up to the Mad Stad.
The roar of the sizable crowd upon entering the stadium gave a lift if it were needed to produce a sprint finish, and I crossed the line in 1:39:20 (chip time 1:37:54). This secured a placing of 1359th out of 8,835 finishers. It remains a mystery as to what happened to the other 5,000 who pre entered for the race.
Kenyan runners called Simon (!) dominated the podium. Simon Kasimili won in 1:04 three seconds ahead of Simon Tonui with Cathy Mutwa winning being first lady for the third successive year in a time of 1:12.
Despite the congested start it was a well organised and enjoyable race which I would thoroughly recommend anyone include in their schedule for next year. Likewise the post race massage which meant I did not have stiff legs the next day.
Pete
Sue P and Sus write about their very different London Marathon experiences…..
Sue P
The London marathon is my favourite marathon in the world ever…….  I love the crowds, the atmosphere and the pure emotion of this great day.  I can think of fewer better ways of spending 4 hours of my life and on top of that raising money for charity.  It has been with jealousy and frustration for 5 years now that I have watched the thousands of runners on that special Sunday in April toiling through the streets of London.  So, I knew that this year I would get an automatic place as a persistent tryer and what could be more fitting than to compete in London as my finale to European marathon running (that makes 7 now including 4 London's; Dublin; Paris and Abingdon).  I had a goal in my mind of under 4 hours when I started my training, but having limited running partners, not competing and preparing to move to NZ all added to my less than perfect training schedule.  In addition, I had to attend a meeting in Paris just before the marathon, which slightly put pay to my carbo-loading and my alcohol ban!
Dave and I had decided to stay with relatives in London for the weekend and that certainly helped on race day, although we were still late getting to Blackheath with just enough time to jump into pen 4 and say a quick goodbye.  The Blackheath start was great and before I knew it I had crossed the start line and was off. Of course I cried instantly – just to be part of this great day was amazing, and as ever the crowd support was fantastic.  I felt wonderfully fresh for 20 miles and the prospect of seeing my charity people, Blue Cross, and Dave at mile 17 kept me going.  It was also brilliant to see Colin Jackson waving and smiling on Tower Bridge.  I wasn't aware that the route had been changed since I last ran to exclude the cobbles and the Tower of London so, to my pleasant surprise we arrived at the Embankment at about mile 23 with just 3 to go.  I was beginning to feel quite tired by this stage, but I soon realised that my target of under 4 hours was still achievable.  I was pleased with my consistency up until the 20 mile point where I averaged 9 minute miles all the way – in fact the splits we so spot on they almost looked as though they had been made up!
For me the highlight is always Birdcage Walk and the Mall – not only because the finish is looming, but because the crowds make you feel so special and hearing 'what have you done today to make you feel proud' booming over the PA system made me cross the finishing line with tears streaming down my face, but laughing at the same time because my watch said 3:59:27.  A great day, and an event I will certainly miss.
Sus
Six years ago Elo and I went to London to be spectators at the London Marathon.  Some of the runners looked more fit than others so I then said to Elo "I can do that" and quickly phoned Klaus (my brother) and said "Klaus please help me I am going to run the London Marathon".  6 years later I did it.  Little did I know then that I was going to be escorted by my all time hero Dick, London's best tour-guide Pete, always-cheerful Lucy and last but not least my man Elo.  Martin was also going to run it, voluntary or not I am not sure, but it was nice to have somebody there who also went through the same emotions as I.  The "Snail" equipped with the teams bikes, chairs to sit on and bed to sleep in safely brought us within spitting distance of the start.  The only thing for me to worry about was what to wear which apparently was enough because it took me ages to decide.  There was only a little rain but would it go from bad to worse or would the sun come out?  I finally opted for a bit of everything, a shower proof over a t-shirt. Martin was starting from the green elite start, I started from the blue start.
Dick, Pete and Elo walked me to the start area and I had a goodbye kiss from all of them, well this cannot get much better I thought until I had a high five from Lucy who met me at the starting pen – now it is perfect, I thought, this can not fail.
But it did, I spent 9.min 43 sec on the first mile and then 8.min 53 sec on the second – do not panic Sus I said to myself, this is what everybody advised me to do, have a slow start.  Initially I was planning to do 8 min pr. mile – so I convinced myself that I would be able to catch up later when it was less crowded.  Just stick to your plan and see what you have left when you reach 18 miles mark and then really push it from there, I said to myself.
But it was such a loud and noisy race that sometimes you just thought it was just too much.  Afraid of tripping on either other runners or Vittel bottles or sliding in lucocade pouches you had to watch where you were going, so I did not see anything else apart from when Pete and Lucy suddenly shouted at me somewhere in a tunnel.
But then we came to Tower Bridge, I was running in the middle of the road and I looked up above me and saw its distinctive blue colour and I started crying! – Now you are silly I said to myself, and tried desperately to get my breathing back to running.  I had no idea I was going to be so emotional – but there you have it.
At app. 15 miles I saw Elo who was shouting "come on Sus", knowing that he would be able to spot that I looked tired – I said to myself "I am not going to let them down, pick yourself up and get on with it" and so I did, knowing that I still had app. 2 min to catch up if I was going to reach my target of sub 3.30.
I really was looking forward to the amazing finish but the fatigue slowly eats you from inside so you just do not see anything, so when I only had 2 miles to go the only thing I could think of was, that now I only have app. a handicap race left then I would be finished.  I did not, apart from the 600, 400 and 200 meters to go sign see anything!
I got my goodie bag and my belongings from the lorry and started the journey to my team.  Dick was right, if you did not have anybody to share your race with it would just not be the same – but I did, and there they there waiting for me.
We now only had one final destination to reach – the pub!  And wow did we arrive in style!  Martin came up with the idea of using a bike taxi; it was the best thing of the whole day.  I felt like a queen with my bodyguards biking around me, one now and then ahead of the rest to check that everything further up the road was clear – it was brilliant!
After a recovery meal at the pub, not only for Martin and I but also for the rest of the team who had spent at least ½ marathon distance on the bike, the "Snail" was ready to bring us home.
Rather disappointed that I was not strong enough to finish under 3.30 I still felt happy that I could give it a tick on my " to do in my life list".
Our times:
Martin              2:56:22
Sus

                  

3:32:29
Compton Harriers also competed in………..
The White Horse Half Marathon, where Martin finished in 1:22:50, Sus in 1:35:37 and Lucy in 1:43:27.
The Asthma UK 10K (Windsor), where Lucy made good use of the flat, fast course and the pacemaker (Martin) to record an excellent PB of 44:36, and Sus tested running at her marathon pace.
The Benson 10K, where Kev knocked another 4 minutes off his PB to finish in 50:03.
The Three Forts Marathon, a tough event near Worthing, in which Lucy did very well to finish in 4:09 as third lady.
The East Hagbourne 4.5M fun run, a 'low-key' but enjoyable, and friendly local event, with entries on the day only £2.  About 200 took part, ranging from competitive club runners to the local football team, children and walkers.  The Harriers were represented by Kev, Mo and Sue, while Lucy helped as a marshal.  The start was a bit confusing, as the elderly gentleman who was trying to give pre-race instructions was using a megaphone, which didn't seem to be working!  The flat, but interesting and scenic route included fields, tracks, the disused railway line, lanes and plenty of stiles, around the Hagbournes, Upton and Blewbury, and was well-arrowed, with plenty of marshals.  Sue was 9th overall and first lady in 30:48 (out-sprinted at the finish by a boy half her height and 25-years her junior!), while Kev ran 37:49 and Mo 51 minutes.  At the Village Hall, there was a plentiful supply of nice homemade cakes and a presentation to the category winners.  The Harriers retired to The Fleur de Lys pub for a welcome light lunch.

Mo
This month's first link of interest is http://www.pponline.co.uk/encyc/0267.htm which will take you to an article on "Tapering" … the technical term for gradually reducing your level of training leading up to an event for which you have been training.  Most athletes tend to have differing ideas and recommendations on how to schedule tapering into their training … if indeed it is necessary at all!  Many athletes who have tried it out for the first time have ended up with much-improved PBs!   It is well worth a visit to the above web address to weigh up all the pros and cons and read about the research carried out on the subject, but to give you a general overview, I have included a summary below: -
According to experts who have carried out controlled scientific tests, the benefits of a well scheduled tapering period can be considerable, including enhanced glycogen stores, an increase of aerobic enzymes, increased blood plasma volume, a more economical performance, speedier recovery from minor muscular aches and pains, better coordination and generally a feeling of more confidence. One reason that optimal tapering apparently works so well - in the athletes who carry it out - is that most athletes probably compete while they're still tired from their previous training. These athletes haven't given themselves an adequate chance to recover from their strenuous training, and therefore their muscles can't function at the highest-possible level on race day. When these athletes try a real taper, many of them reach their true potential for the first time in their lives.
Non-tapering athletes can be the victims of an all-too-popular belief in sport, which is that good training consists of little more than very hard work. This approach fails to take into account the reality that great training is always a combination of work AND rest. Without appropriate rest, the human body is unable to fully adapt to training. While putting together an optimal training schedule, an athlete must consider the rest days and periods just as carefully as the hard training times, otherwise, he/she will always compete in a sub-optimal state.

All the above brings up an important follow-up point; since appropriately constructed tapering can produce such positive results, and since many athletes train far too much, with too little recovery, why not include tapering periods not just before races but as a regular part of the overall training programme? This would lead to big upswings in fitness, not just before competitions, but at regular intervals during training. The timing of such tapering would depend on the intensity and volume of an athlete's schedule, but - at the very least - the final five to seven days of each month should be made light enough to 'consolidate' all the potential gains which can accrue from the first 21-25 days of regular training.
Recently I received an email message from Tim of http://www.runningcoop.co.uk asking me to let all members know about the runningcoop email newsletter.
Tim and a group of friends started runningcoop last year by inviting running shops to give their best price on top products. Every fortnight runningcoop chooses 10 of the best products that the shops tell them about and email it to friends in other clubs. Tim explained that a running cooperative seemed like a fun way for runners to share experiences and see what the shops could offer. Running shops don't have to pay to get on runningcoop, they just have to give them their best price. To continue the co-operative theme runningcoop send all the new products to readers for them to review. They can be as honest as they like! Tim would like as many members as possible to sign up for the fortnightly email.  According to Tim, the more runningcoop readers that sign up, the better the runningcoop offers get. That's how a cooperative works.
Finally, now that I have received the official registration certificate, a brief reminder that the website can be accessed by using our new internet domain name of comptonharriers.org.uk without running into the increasing tide of pop-ups when using the comptonharriers.cjb.net domain (although this is still functional as well).  The email address for the new domain is comptonharriers@comptonharriers.org.uk  although the other email addresses are still active as well.
Events Diary: A selection of local and other well known events for your information.  If you need any entry forms, I can email most of them on request and others are likely to be on the club notice board.
<![if !supportLists]> · <![endif]>Sunday 7th May 2006 – LEEDS HALF MARATHON – 10:00 am, Leeds City Centre,
   http://www.leeds.gov.uk/runleeds
<![if !supportLists]> · <![endif]>Sunday 7th May 2006 – MARLOW 5 MILE RUN – 09:30 am, Hugginson Park Marlow, Bucks. 
     Entry forms on notice board or from me.
<![if !supportLists]> · <![endif]>Sunday 7th May 2006 – BRACKNELL ½ MARATHON – 09:00 am, South Hill Park Arts Centre, Bracknell
     http://www.bracknellforest.gov.uk/leis-half-marathon-2006.htm
<![if !supportLists]> · <![endif]>Saturday 13th May 2006 – ICKNIELD WAY HALF MARATHON & 10K – Entry forms on Club
 Notice board. (Start time not stated on entry form – closing date for entries 6th May 2006).
<![if !supportLists]> · <![endif]>Sunday 14th May 2006 – WOODLEY 10K – 11.00 am,  Memorial Recreation Ground, Headley Road,
     Woodley, Berkshire, RG5 4JA  http://www.woodley10k.co.uk
<![if !supportLists]> · <![endif]>Saturday 21st May 2006 – OXFORD TOWN & GOWN 10K – 10.00 am exact location to be included on
 website nearer race day – no entries on the day. http://www.oxfordtownandgown.org
<![if !supportLists]> · <![endif]>Monday 29th May 2006 – OLLIE JOHNSON MEMORIAL KINTBURY 5 MILE RUN – 10:00 am
Kintbury Recreation Ground.  Entry forms on club notice board.
<![if !supportLists]> · <![endif]>Sunday 11th June 2006 – CHILTERN CHASE 10K – 10:00 am, Ewelme Village, between Oxford &
Henley http://www.chilternchase.org.uk (Multi-terrain)
<![if !supportLists]> · <![endif]>Sunday 11th June 2006 – SOUTH DOWNS MARATHON & RELAY – 10:00 am, White Ways Country
Park, nr Arundel Castle to finish at Queen Elizabeth Country Park. http://www.209events.com
<![if !supportLists]> · <![endif]>Sunday 11th June 2006 – ST ALBANS HALF MARATHON – 10:00 am (½ Mthn); 08:00 am (Walkers),
     Verulamium Park, St Albans.  http://www.stalbanshalfmarathon.co.uk
<![if !supportLists]> · <![endif]>Sunday 25th June 2006 – LAMBOURN 6K FUN RUN – 10:30 am, The Lambourn Centre, Close End,
     Lambourn.  LambournRec@westberks.gov.uk (entry forms also on club notice board).
<![if !supportLists]> · <![endif]>Saturday 1st July 2006 – THE COMPTON CANTER 6 COUNTRY MILES – 2:00 pm, Compton
Recreation Ground. http://www.comptonharriers.org.uk
<![if !supportLists]> · <![endif]>Saturday 8th July 2006 – HARWELL SCHOOL FUN RUN ~5 MILES– 1:45 pm, Harwell School - entries
£2  on the day from 1:20 pm. – un-marshaled.
<![if !supportLists]> · <![endif]>Saturday 1st July 2006 – DORNEY DASH 10K – 10:00 am, Dorney Lake, Nr Windsor.
     http://www.datchet-dashers.com
<![if !supportLists]> · <![endif]>Sunday 9th July 2006 – WYCOMBE HALF MARATHON – 09:30 am, High Wycombe, Bucks.
<![if !supportLists]> · <![endif]>Sunday 9th July 2006 – NEW FOREST 10 (MILES) – 11:15 am, New Park Farm, Brockenhurst, Hampshire.
   No entries on the day. http://www.nf10.co.uk
<![if !supportLists]> · <![endif]>Sunday 23rd July 2006 – THAMES RUN 13K – 11:30 am, Wallingford, On the Thames between Oxford &
 Henley.  http://www.thamesrun.co.uk (Multi-terrain)
<![if !supportLists]> · <![endif]>Sunday 17th September 2006 – BONESHAKER 2006 – Run-cycle-run duathlon, 10:30 am, Ardington
Sports Field, Nr Wantage.  www.bone-shaker.co.uk
<![if !supportLists]> · <![endif]>Sunday 1st October 2006 – GREAT CLARENDON FULL/HALF  & RELAY MARATHON – 10:30
am Winchester College (full & relay), 12:00 noon Broughton Village Hall (half).
      http://www.clarendon-marathon.co.uk
(Mo – May 2006)