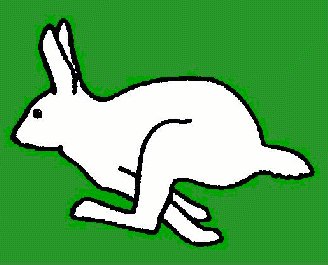 THE HARRIERS HERALD
No. 153, November 2005
Editorial
Welcome to November's Harriers Herald.

 

We begin with Thursday night schedules, brief details of the club's Christmas Meal, AGM and London Marathon Club Entry, and Secretary's correspondence.

 

Mo's Website article includes links for finding lost sports kit and for nutritional therapy.

 
Mo'
s Events diary covers a wide range of races from 10Ks and half marathons to cross-countries.

 

During October, club members took part in no less than four different marathons and two half-marathons.

 

There were successes all round, with top placings, P.B.s and good-for-age performances.

 

Susanne reports on The Polar Circle Marathon, Philomena on the Cardiff Marathon, and Sue P on the Cardiff Half and Swindon Half.

 

There are also brief results from the Clarendon Way Marathon and the Abingdon Marathon.

 

The first race of the Winter Handicap Race Series has taken place and Martin heads the points table.

 

Thanks to Phil, Sue P, Susanne and Mo for this month's articles.
Thursday night schedule for November
Thurs    3rd                    Lucy to lead
Thurs    10th                  Pete to lead
Thurs    17th                  Handicap Race
Thurs    24th                  Kirsty to lead
Thursday night schedule for December
Thurs    1st                    Martin to lead
Thurs    8th                    Handicap Race followed by Compton Harriers AGM
Thurs    15th                  Sue to lead                  
Thurs    22nd                  Mo to lead
Thurs    29th                  No leader scheduled
Thanks to Pete for organising the Christmas Meal, which will be at 8 pm on the evening of Saturday 17th December at 'The Castle' at Cold Ash.  Fourteen of us are attending.  Pete needs you to give him a deposit of £5 per head, and your menu choices sometime within the next week or so.
I have written off to apply for the club's guaranteed entry to the London Marathon, but I have not yet received it.
Correspondence received by Secretary
Abbreviations:  BCAA = Berkshire County Athletic Association; SEAA = South of England Athletic Association; AAA = Amateur Athletic Association of England; UKA = UK Athletics
Correspondence received

Sender

Subject matter

Action

Association of British Athletic Clubs ABAC

Counter statement to Foster report proposals; ABAC Membership application form

Discussed at club-night

Pinnacle Tours

Two Oceans Cape Marathon (Cape Town) 15-04-2006

File

AAA

Notice of EGM

File

Newline

Sports Clothing Catalogue

Notice board

Peter Radcliffe

Urges us to vote for proposals for modernisation of Athletics in the UK

Too late, we've already voted against proposals!

SEAA

Future role of the SEAA

File

David Griffiths (race organiser)

Cotswold Canter 10K entry forms, Burford, 20-11-05

Mo & notice board

SEAA

Chichester Priory 10K entry forms, 05-02-06

Mo & notice board

BCAA

Notice of AGM (Bracknell, 21-11-05)

Any one fancy representing us?

Osteoporosis 2000

Golden Bond charity places for London Marathon

Notice board

VIGA clothing Ltd.

Club vest orders

Discussed at club-night

UKA

Grant Aid; Club Awards 2006; Welfare/CRB checks

File

Running Imp International

Catalogue & 10% discount voucher valid until 31st December 2006

Remember voucher if ordering for CDC!

SEAA

Info. Update #93; Subscription renewal reminder (due 01-01-06, £60) & club details form

Sort subs. after our AGM
Mo
My first website of interest for this month's report concerns the launch of Lostkit.co.uk with the aim of helping runners find their lost property; the site address is http://www.lostkit.co.uk . By completing an on-line form, you can report any property lost at races or meetings across the UK and lostkit.co.uk will try to track it down for you.  Similarly, should you find any running gear or other item, you can complete a form to that effect by posting details online.  Lostkit.co.uk will then try to match up the lost and found items with the aim of returning all lost property to the rightful owner.  The service is free and asks that race organisers advertise the service in their race information or entry forms wherever possible.
Should you be looking for sports gear and equipment in general, then I suggest a visit to http://www.wiggle.co.uk .  This site has just about everything for the sports enthusiast and although some of the prices look a little on the high side, there are also some very good discounts on running shoes … many with up to 50% off the normal retail price.
For those of you who are interested in Nutritional Therapy, I recently received a letter from Caroline Seekings who runs a small business in Maidenhead called Food Sense.  She is offering members of Compton Harriers a 25% discount on all consultation packages.  According to Caroline, Nutritional Therapy can alleviate many of the problems that affect performance such as fatigue, muscle aches, joint pain and recurrent colds.  Most of these problems can apparently be traced back to nutritional imbalances and can therefore be avoided with a specific dietary regimen designed to balance body chemistry.  Anyway, have a look for yourself on Caroline's website at http://www.foodsense.co.uk .
And finally …. Just for Dick … I recommend this link http://www.tracklements.co.uk … you could also try this one as well … http://www.olivesetal.co.uk/products/tracklements-sauces/  … but for the best list available it just has to be http://www.oakexports.co.uk/tracklements.htm .

<![if !supportLineBreakNewLine]>
<![endif]>
Events Diary: A selection of local and other well known events for your information.  If you need any entry forms, I can email most of them on request.
<![if !supportLists]> · <![endif]>Sunday 6th November 2005 – MARLOW HALF MARATHON – 9: 30 am Riley Road Recreation Ground, Oxford Road, Marlow http://www.marlowstriders.co.uk
<![if !supportLists]> · <![endif]>Sunday 6th November 2005 – OXFORD MAIL X-COUNTRY LEAGUE – Ascott-under Wychwood
<![if !supportLists]> · <![endif]>Thursday 17th November 2005 – WESTON PROM RUN 5MILES – , Cabot Bars (opposite Weston College). http://www.westonac.co.uk
<![if !supportLists]> · <![endif]>Sunday 20th November 2005 – AVEBURY 8 – 10: 30 am Avebury, Wilts http://www.marlboroughrunningclub.org.uk
<![if !supportLists]> · <![endif]>Sunday 27th November 2005 – MAYLARCH EYNSHAM 10K – 10: 30 am Bartholomew School, Eynsham http://www.eynsham.org/roadrunners.html
<![if !supportLists]> · <![endif]>Sunday 4th December 2005 – TADLEY XMAS CROSS-COUNTRY 5.3 MILES – . http://www.hants.org.uk/tadleyrunners/index.html
<![if !supportLists]> · <![endif]>Sunday 4th December  2005 – LUTON MARATHON – 10: 00 am Lea Manor Recreation Ground http://www.lutonmarathon.org.uk
<![if !supportLists]> · <![endif]>Sunday 4th December 2005 – THE GRIM , Long Valley, Aldershot, GU11 2HL http://www.grimchallenge.co.uk
<![if !supportLists]> · <![endif]>Sunday 4th December 2005 – OXFORD MAIL X-COUNTRY LEAGUE – Headington
<![if !supportLists]> · <![endif]>Sunday 11th December 2005 - ANDY READING 10K - 11:00am, Bicester Sports Association, Chesterton, Bicester, http://www.alchester-runningclub.co.uk
<![if !supportLists]> · <![endif]>Saturday 17th December 2005 – G3 DECEMBER 2005 10K - 8:45am, Newlands Corner, Guildford, GU4 http://www.allabouttriathlons.co.uk
<![if !supportLists]> · <![endif]>Monday 2nd January 2006 - OXFORD MAIL X-COUNTRY LEAGUE – Lambourn
<![if !supportLists]> · <![endif]>Sunday 5th February 2006 - OXFORD MAIL X-COUNTRY LEAGUE – Cirencester
<![if !supportLists]> · <![endif]>Sunday 12th February 2006 – WOKINGHAM ½ MARATHON -  10:00am, Cantley Park, Wokingham http://www.wokinghamhalfmarathon.co.uk
<![if !supportLists]> · <![endif]>Sunday 5th March 2006 - OXFORD MAIL X-COUNTRY LEAGUE – Banbury
(Mo – November 2005)
The Polar Circle Marathon, 8th October
Susanne
Turning 40 in summer 2005 my birthday present from my family was a trip to Greenland to run the Polar Circle Marathon.  Since you do not turn a present down there was only one thing to do; start training long runs.
As the countdown started to the departure date I believe you always think that you ought to have trained more and a nasty flu (I think most of you who read this know what I am talking about) app. a month before my departure did not improve the situation.  Klaus, my brother who initially came up with the idea, was also going to run and we agreed no matter what, we would start and finish it together.  On the day before departure to Copenhagen I was packing my suitcase.  Apart from a lot of clothes, I also included my famous beagles, peanut butter and honey.  But then it occurred to me, do they have bananas on Greenland?  So just in case I also included a few bananas.  The journey went from London to Copenhagen to Kangerlussuaq (Greenland).  A week before leaving, Klaus was given the information that we could expect -10 degrees Celsius.  When we arrived the temperature was -13 degrees Celsius.
The day before the race all 74 runners (participants came from Greenland, England, Sweden, Austria, The Czech Republic, Scotland, New Zealand and of course Denmark) were taken on route inspection, we drove in large all-terrain vehicles out to the start.  The first 4 kilometers was going to be on glacier, though snow had fallen the previous day we soon realized that studs would be a necessity.  The remaining route was over a very hilly terrain, passing the enormous glacier tongues, moraine plains, tundra and arctic desert.  The question on everybody's lips was what to wear.  My decision finally came to 8 layers of shirts + an extra strapped around my waist.
Because the air was cold and dry it had been estimated that we would use app. 2500 calories on breathing alone, how they came up with that figure I do not know!
Anyway, the morning arrived and we were all taken to the starting point, there was a very strange atmosphere in the vehicles, everybody was very quiet and a little stressed.  The temperature was -15 degrees Celsius, but because of the wind the chill factor was -23.
At every 5K we had a warm drink, the first gulp we took was just burning down our throat.  The route had kilometer signs counting down, which mentally was nice.  A doctor was regularly driving up and down the route to check on us.
In many aspects this was a different race.  Because we had spent 3 days before the race together with the other runners we all came to know each other pretty well, even the 2 Swedish guys were nice, so it was a different feeling either to be overtaken or passing other runners who were now pals.
Klaus and I had estimated a finish time off app. 5 hours, but somehow we managed 4:14.57.  To cross that finish line was something I will never forget, just writing this still makes my skin go funny.  To give the race the "blue stamp" the Danish athletic society was present and I will never forget when the chairman put his hand on my shoulder and said "Well done, you are 2nd lady".  It had to be said that we were only 16 ladies, but it still made me happy.
It was such a buzz to run a marathon so I think any person should do it just once, so Sue you are next!
The race was won by Andrew Shaw from England in the fantastic time of 2.57.19, while the first lady home was Elisa Laura Agtagkat from Greenland in 4.07.26.
Finally, thanks to the all the familiar faces who greeted me at 11 PM when I came home, it meant a lot!
Susanne
Cardiff Marathon, 9th October
Philomena
Some time last year, to try and keep my motivation for running going, I decided that I'd try and do two marathons a year, one in the spring and one in the autumn and at a new venue each time.  So looking around for one that was not too far away and reading that it was a flat course (my kind of course!), I decided to give the Cardiff marathon a go.  It was also a special one this year as they were celebrating the centenary of Cardiff being a city and the 50th year of it being the capital of Wales.  I arrived in Cardiff on the 8th of October, a day before the race, and went for a walk about to see what the city had to offer.  It's a lovely old city with everything written in both English and Welsh.  It was fun trying to make sense of the Welsh but I soon gave up (too hard to read let alone pronounce!) and just settled for the English.  I walked to the Millennium stadium where the race would finish and tried to imagine what it would be like finishing there tomorrow.
Race day dawned bright and sunny but not too hot, and with only a light breeze, as predicted by the weather man/lady.  This helped to set me in a positive mood and to calm my nerves.  Having downed my usual pre race breakfast, half a cup of tea (no more, no less) and nothing else (nothing else will stay down!), I set off for the start, which was only a 5-minute walk away.  As well as the full marathon there was also a half marathon, which started 45 minutes before the full.  The route consisted of the same loop run twice for the full and once for the half marathon.  I arrived at the start with plenty of time to spare, so I had plenty of time to stretch and mingle (i.e. size up!) the other runners.  After a last minute visit to "Powder my nose" in the MacDonalds' "Ladies" we set off at exactly 9am with a big cheer from the crowds.  There were about 1500 doing the full marathon so getting to the start did not take too long and also we all had timing chips, so there was no urgency to be at the front.  I set off at a comfortable pace, not quite sure how hard I wanted to push it - I was secretly hoping to do 3:45, but would be happy with anything under 4hrs.  The route was quite scenic and the run along the bay and within the castle grounds was lovely, that is apart from the short stretch of cobbles near the castle, which were not so bad in the first lap but agony in the second!  About 6 miles into the race my legs were feeling strong and I decided to push it a bit and see how fast I would do the first 13 miles.  I did that in 1:52 and a quick calculation told me that if I pushed it a bit more I could meet my secret target.  My legs were still feeling good at this point and I was feeling strong so I decided to go for it!  I kept myself going by planning when my next Lucozade tablet or drink break would be rather than looking at the mile markers, which were quite confusing in some parts as the race was in 2 laps.  For example the 6 mile marker being alongside the 18 mile marker and so on!  So 21 miles came and looking at my watch 3hours had gone by, still on target and legs and body feeling good (those Lucozade tablets were doing the trick, thanks Susanne for introducing them to me!), then into the castle grounds, those cobbles again, but now totally focused on finishing.  Then the 25-mile marker, large crowds cheering and now just running as fast as I could as the stadium came into view.  As I entered the stadium, I spotted the clock 3:44:34!  Although I knew my chip time was going to be less than this, I ran the fastest I have ever run (not helped by the fact that my left shoe lace was coming undone, but no time to stop!) to try and have the clock saying 3:45, I managed 3:45:01!  (3:42:33 on my watch but 3:42:44 chip time). You should have seen the grin on my face!  I'm grinning now even as I write this!
Then, and most important of all, it was off to pick up my medal which, it turns out came in box, no ribbon, so I couldn't hang it proudly round my neck, but no problem, I was just too happy to worry about that!  The goody bag came in quite handy as well, as it contained a banana and an orange, which I quickly wolfed down! Then after hanging around a bit to cheer a few other finishers it was off to get into some dry clothes and then I treated myself to a pizza, the best tasting pizza I've ever had.  I then headed off back to Didcot, still grinning (getting some strange looks on the train and people avoiding me!) and I'm still grinning today.
A tale of two halfs (or 13.1 miles around Cardiff and Swindon)
Sue P
Having decided that I needed to start getting myself fit again, after living it up in Oxford for a year, I managed to persuade June (ex CH) and Sally (running partner in Aldbourne) that we should have a go at the Swindon half marathon. What better way to meet up with old friends and support a local race?  However, while idling my time away on the train home from work one night, I discovered that the Cardiff half marathon was being held 1 week before Swindon.  How could I not go back to the 'Land of my Father(s)' and help Cardiff celebrate 100 years of being a city and 50 years of being the capital of Wales?  Not wanting to let my friends down either I decided to do both runs and to try and enjoy them for their own different reasons.  Cardiff proved to be a very popular event with over 7000 people taking part in a full and half marathon – so much so that there was absolutely no accommodation to be had within the city the night before, and an 8:15 race start meant a very early drive to Wales.  The weather was beautiful and with both the start and the finish being in the Millennium Stadium, I was so excited.  There was just time for a quick run around the outside of the pitch and a quick pluck at some grass from the hallowed turf (as a souvenir) before we were off.  The route was awesome – very scenic through Pontcana and Bute Parks, then into the city following the Taff, through the castle and into the stadium where a capacity crowd was waiting to cheer on their heroes.  I lie, of course, but it did feel very special to run into the stadium - like Stephen Jones or Gavin Henson (well maybe Charlotte Church) waving my flag aloft for all to see!  The finish was a bit chaotic with thousands of people trying to get their medals and get out of the stadium, but the grass survived and so do the memories of a great day.  Oh, and the time – well quite a respectable 1hr 51.
By comparison, Swindon was only ever going to be an anti-climax, but there were some good points: the route was very nice (scenic and undulating) and well away from all that Swindon usually has to offer; the race was well organised and the T-shirt and goody bag were particularly nice.  June and I just enjoyed the run and the company with the aim of keeping Sally going to the end.  I had a slight Achilles injury and June a minor knee injury, so we were all pleased to finish pain-free and to help Sally to a new PB for a half marathon.
Sue P
Only two weeks later, Lucy ran the Abingdon Marathon in mild but blustery conditions.  Her time of ~3:45 was only marginally outside her P.B.
Sue
October's Handicap Race kicked off the six-race winter series.  It was quite a mild, still and pleasant evening with a little daylight remaining, and there were some very good performances.  It was a close race for first and second.  It looked as though Dick had the race sewn up but Martin, despite his jet lag from a recent transatlantic flight, went from last to first with a storming finish, which took him across yet another time zone (sub-11).  Despite being pipped at the finish, Dick was very happy to record his best post-back-operation performance.  There was also a good race for third and fourth: I worked hard to almost catch Lucy on the final straight, but she took the final corner well.  We were both marginally outside our P.B.s.  Pete was next home, followed by Kirsty.  Susanne, recovering from her recent marathon, kindly acted as pacemaker for new runner Kevin.  Kevin had pre-estimated his time at 17 – 18 minutes, so was pleased to be well inside that.  Mo, after several non-running weeks due to another injury set-back, was pleased he managed to jog two laps, while Tom's injury was not so good and he had to settle for one steady lap before taking on the role of time-keeper's assistant.  Thanks to Jan and Tom for timing.  The next Handicap Race is scheduled for 17th November.
| | | | | | |
| --- | --- | --- | --- | --- | --- |
| Pos | Name | Start time | Finish time | Actual time | Handicap Beaten? |
| 1 | Martin | 3:35 | 14:31 | 10:56 | -0:29 |
| 2 | Dick | 2:01 | 14:33 | 12:32 | -0:27 |
| 3 | Lucy | 1:20 | 14:57 | 13:37 | -0:03 |
| 4 | Sue | 3:18 | 14:58 | 11:40 | -0:02 |
| 5 | Pete | 1:42 | 15:13 | 13:31 | +0:13 |
| 6 | Kirsty | 0:08 | 15:49 | 15:41 | +0:49 |
| 7 | Kevin | 0:08 | 15:52 | 15:44 | New Runner |
| 8 | Susanne | 0:08 | 16:18 | 16:10 | - |
Winter Handicap Series
This covers the six monthly handicap races from October to March around the Village Lap (3.07 km, 1.92 miles).  A competitor's start time for a given race is determined from the average of his/her previous two performances.  In each race, points are awarded for finishing position: 7 for the winner, 6 for the runner-up, down to 2 points for the sixth finisher, all subsequent finishers getting 1 point.  If a runner starts before or after their allotted set-off time, his/her points score is determined from the position he/she would have finished had he/she started at the correct time.  A new runner, taking part in the Handicap Race for the first time, scores 1 point, and establishes a start time for the next race.  At the end of the six races, a competitor's best five scores are taken to give their Championship total (if a competitor takes part in fewer than five of the races, then the scores from all of their races will count).  The person with the highest points total at the end of the six-race-series is crowned Winter Handicap Champion and receives a small prize.
Points after the first race are given below
 Position

Name

Race points

Race 1

Race 2

Race 3

Race 4

Race 5

Race 6

Total

1

Martin

7

-

-

-

-

-

7

2

Dick

6

-

-

-

-

-

6

3

Lucy

5

-

-

-

-

-

5

4

Sue

4

-

-

-

-

-

4

5

Pete

3

-

-

-

-

-

3

6

Kirsty

2

-

-

-

-

-

2

7

Kevin

1

-

-

-

-

-

1

8

Susanne

1

-

-

-

-

-

1