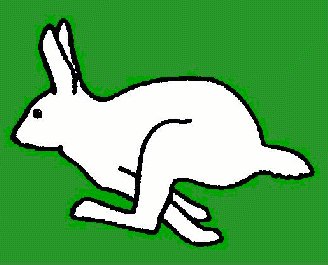 THE HARRIERS HERALD
No. 151, September 2005
Editorial
Welcome to September's Harriers Herald.

 

The Harriers headline this month is Lucy's fine performance in the Ridgeway Challenge.

 

She completed the 86.5-mile course in a time of around 23 hours as the second-placed lady.

 

Lucy hopes to share her experiences in next month's Herald.

 

We begin this issue with Thursday night schedules and Secretary's correspondence.

 

Then there are a few words about the Ridgeway Challenge from a helper's point-of-view, followed by results of the Handicap Race.

 

Mo's Website report features the London Marathon website, and his Fixtures article covers a wide range of races through the months of September, October and November.
Thursday night schedule for September
Thurs    1st                    Pete to lead
Thurs    8th                    Mo to lead
Thurs    15th                  Sue to lead
Thurs    22nd                  Marie to lead
Thurs    29th                  Martin to lead
Thursday night schedule for October
Thurs    6th                    Dick to lead
Thurs    13th                  Handicap Race
Thurs    20th                  Philomena to lead
Thurs    27th                  Susanne to lead
Correspondence received by Secretary
Abbreviations:  BCAA = Berkshire County Athletic Association; SEAA = South of England Athletic Association; AAA = Amateur Athletic Association of England; UKA = UK Athletics
Correspondence received

Sender

Subject matter

Action

SEAA

Info. Update #31; Athletics Development Update #35; Aldershot Road Relays entry forms

File

UKA

Coaching conferences for sprints & jumps

Bin

Chris Benning (AAA)

Club information questionnaire; Regional development programme; coaching courses; British Milers Club courses

Questionnaire returned

File

UKA

Renewal of coaches licences

Bin
Ridgeway Challenge (86.5M) 27/28 August
Sue
            Jan returned to her post as timekeeper this month and, with nine of us taking part, there was plenty of action to keep her on her toes.  Kirsty, taking part in her first handicap race for almost two years, set off first with Mo.  However, she surprised herself and everyone else by recording a personal best time that gave her a winning margin of almost two minutes.  Phil took second spot, with Pete, Susanne, Me, Lucy and Dick following in close succession.  Martin wasn't quite up to his usual speed as he was nursing a knee injury (apparently caused when Lucy pushed him off a cliff in the Lake District), but did well to finish just outside the 12-minute mark.  Mo, also still recovering from injury was pleased to get round with no ill effects.  Well done Kirsty, and thanks to Jan for timing.  The next Handicap Race is scheduled for 13th October: if the majority are in favour of a monthly Winter Handicap Series (as previously), then the October race will be the first one of the series.
| | | | | | |
| --- | --- | --- | --- | --- | --- |
| Pos | Name | Start time | Finish time | Actual time | Handicap Beaten? |
| 1 | Kirsty | 0:05 | | | New Runner |
| 2 | Philomena | | | | -0:19 |
| 3 | Peter | | | | -0:09 |
| 4 | Susanne | | | | -0:08 |
| 5 | Sue | | | | +0:03 |
| 6 | Lucy | | | | +0:11 |
| 7 | Dick | | | | +0:17 |
| 8 | Martin | | | | +0:52 |
| 9 | Mo | 0:05 | | | +1:17 |
Mo
My first article this month relates to the Flora London Marathon and is a reminder that you have until October 21 to apply for a place in next year's event.
As in recent years, if you have entered through the ballot and been rejected from the last five London Marathons, you are guaranteed a place for 2006. You can also be certain of a place if you qualify for a Good For Age time (see below), or run for a charity offering a Golden Bond place (you guarantee a certain level of sponsorship). Or you can simply apply via the ballot.

Application forms are tucked inside Marathon News, FLM's magazine. If you have previously applied for the race, you should have received your copy already – if not, they are available at most sports shops, free of charge. Details can be found at http://www.london-marathon.co.uk .
Closing date for entries to next year's event is 21st October 2005.  More than 98,000 people applied for 36,000 ballot places in last year's race (organisers expect approximately 80% of entrants to actually make it to the start line). If you have been successful in the ballot, you will hear in the first two weeks of December 2005. Next year's race is on April 23, 2006.

The guaranteed places:As well as five-time reject places, FLM also allocate places to UK Athletics-affiliated clubs. The number of places given to each club is proportional to the number of first-claim members they have. Deciding which member gets the places is for the individual organisations (Xmas draw for Harriers of course!), but most will give them to the runners who contribute the most to the club, rather than the quickest marathoner.

Good for age guaranteed places can also be applied for if you have run the following times in 2004 or 2005. To do this, you need to write to FLM, with proof of your age and your time (a photocopy of the results and your passport will do fine).
| | | | |
| --- | --- | --- | --- |
| Men 18-40 | | Women 18-49 | |
| Men 41-59 | sub-3:15 | Women 50-54 | sub-4:00 |
| Men 60-64 | sub-3:30 | Women 55-59 | sub-4:15 |
| Men 65-69 | sub-4:00 | Women 60-64 | sub-4:30 |
| Men 70+ | sub-5:00 | Women 65-69 | sub-5:30 |
| | | Women 70+ | sub-6:30 |
Charity places:  Charities buy entries en-block for FLM, and then offer them as Golden Bond places to runners who agree to raise a minimum level of sponsorship. This can be from £750 upwards, which means getting 30 people to sponsor you a pound a mile. A list of charities offering places can be found on the Runners World website at http://www.runnersworld.co.uk/charity 

Second ballot places:  If you're unsuccessful in the main ballot, your cheque will be destroyed. But, if you bequeath your entry fee to the London Marathon Charitable Trust (which provides money for recreational schemes in London) then you will be put into a second round ballot for the chance to win one of the last 1000 places.
Secondly, another reminder – this time for the Grizzly brigade … if you intend to enter next year's Grizzly you will need to apply as soon as the application forms become available.  So, make sure you visit the race website on 12th September 2005 when entry forms will be posted.  Next years race will be on Sunday 12th March 2006.  The Grizzly website address is http://www.lmrbean.plus.com/avr/events/grizzly.htm
Finally, here are a few very simple training tips to improve your enjoyment and general running fitness: -
If your schedule allows it, run at the same time each day. If you have to decide when to fit your run in every day, you waste valuable time and energy.

Want a simple way to help you stick with your training? Mark an 'X' on your calendar on the days you exercise. In a recent study, exercisers who did this fared better than those who didn't keep track at all.

Crafting a four-month training plan may not sound simple, but it only takes an hour or two, and once it's done you won't have to worry about it for another four months. Work backwards from your goal, and plot out each week's work-outs one by one, including long runs, speed sessions, hills and rest days. Nothing is simpler than glancing at a schedule, then heading out the door to follow it.

Whenever possible, run first thing in the morning. Not only will you avoid having to shower twice a day, you'll also be less likely to skip your run. (You know how it works - the longer the day drags on, the more time you have to find an excuse not to run.)

If you don't have time for a 20-minute stretching routine, focus on your calves and hamstrings, the most important muscle groups for runners. Here's a stretch that works them both: place the balls of your feet on a low kerb or a piece of wood with your heels resting on the ground. Slowly bend at the waist as if you're trying to touch your toes. Hold for 30 seconds.

Negative thoughts or minor aches and pains can turn a good run into a bad one in a hurry - but only if you let them.

 

Remind yourself how miserably out of shape you used to be!

Tempo training is one of the best ways to improve your performance: run slowly in one direction for 30 minutes, then turn around and run nearer to your 10K race pace for the next 20 minutes; when that's done, jog back to your starting point.

Don't train more than necessary to achieve your goals. If 40 miles a week allows you to race a 40-minute 10K, and 80 miles a week also allows you to race a 40-minute 10K, then why run 40 miles more than you need to?

If you'd like to run further, burn more calories and maybe plant the seeds for a possible marathon plus some day, but you feel too tired after just 30-40 minutes, what do you do? Take a one-minute walking break after every nine minutes of running. If that's still too hard, take a one-minute walking break after every four minutes of running. You should be able to double the time that you're out almost instantly. You'll feel great, and that marathon seed will take root and grow.

Set aside one day a week as a 'simple run day'. Get up whenever you feel like it, drink a cup of coffee, and then head out. On this run, don't worry about time, pace or distance. Just run.

Worried that you're overtraining? Find out in 60 seconds by checking your resting heart rate before you step out of bed. Monitor it first, though, for a couple of weeks to establish what's normal for you. "An increase in waking heart rate is a sure sign of fatigue. If it's eight beats or more above normal, take it easy that day.
Now you are all in fine fettle, how about a suitable race to aim for below ….
Fixtures: A selection of local and other well known events for your information.  If you need any entry forms, I can email most of them on request.
<![if !supportLists]> · <![endif]>Sunday 4th September 2005 – KERRIDGE Highclere castle http://www.newburyac.org.uk
<![if !supportLists]> · <![endif]>Sunday 4th September 2005 - HEADINGTON , Worminghall, Oxford, HP18 9JX http://www.hrr.org.uk
<![if !supportLists]> · <![endif]>Sunday 11th September 2005 - ALDBOURNE , Aldbourne Football Club, Farm Lane, Aldbourne, SN8 2DS http://www.aldbourne10k.co.uk
<![if !supportLists]> · <![endif]>Thursday 15th September 2005 – WESTON PROM RUN 5 MILES – , Cabot Bars (opposite Weston College). http://www.westonac.co.uk
<![if !supportLists]> · <![endif]>Saturday 17th September 2005 – HIGH PEAK CHALLENGE 40 – 08:00am Buxton, Derbyshire. 
<![if !supportLists]> · <![endif]>Saturday 17th & Sunday 18th September 2005 – ISLE OF WIGHT FELL RUNNING SERIES – 11.00 am Winter Gardens, Ventnor, Isle of Wight http://www.rydeharriers.co.uk
<![if !supportLists]> · <![endif]>Sunday 18th September 2005 - CHARLBURY STREET FAIR , The Playing Close, Charlbury, Oxford http://www.runnersworld.co.uk/events/viewevent.asp?sp=&v=2&EN=27123
<![if !supportLists]> · <![endif]>Sunday 18th September 2005 – THE BONESHAKER  X-Country 5k Run, 20k Bike, 5k Run - 10:30am, Ardington Sports Club http://www.bone-shaker.co.uk
<![if !supportLists]> · <![endif]>Sunday 18th September 2005 – NEW FOREST HALF MARATHON  and MARATHON – (½ Mthn), (Full Mthn) New Milton, Hants http://www.nfma.org.uk
<![if !supportLists]> · <![endif]>Sunday 25th September 2005 – WINDSOR HALF MARATHON – Windsor Great Park http://www.runwindsor.com
<![if !supportLists]> · <![endif]>Sunday 2nd October 2005 – ALTON DOWNLAND CHALLENGE 10K & Anstey Park, Alton http://www.altonrunners.org/downland.htm
<![if !supportLists]> · <![endif]>Sunday 2nd October 2005 – FINCH COASTERS TOUGH The Discovery Centre, Bracknell http://www.finchcoasters.org.uk
<![if !supportLists]> · <![endif]>Sunday 2nd October 2005 – THE LONG BARROW – See club noticeboard.
<![if !supportLists]> · <![endif]>Sunday 9th October 2005 – RIDGEWAY Tring Park Cricket Club, Tring, Herts http://www.tringrunningclub.org.uk
<![if !supportLists]> · <![endif]>Sunday 16th October 2005 –AKZO NOBEL ABINGDON MARATHON – Tilsley Park, Abingdon. Closing Date 30th September 2005. http://www.abingdonamblers.co.uk
<![if !supportLists]> · <![endif]>Thursday 20th October 2005 – WESTON PROM RUN 5 MILES – , Cabot Bars (opposite Weston College). http://www.westonac.co.uk
<![if !supportLists]> · <![endif]>Sunday 23rd October 2005 – EXMOOR STAGGER West Somerset Community College, Minehead http://www.mineheadrunningclub.co.uk
<![if !supportLists]> · <![endif]>Saturday 29th October 2005 – BEACHY HEAD MARATHON – 9:00 am St Bede's School, Eastbourne, Sussex http://www.beachyheadmarathon.org
<![if !supportLists]> · <![endif]>Sunday 6th November 2005 – MARLOW HALF MARATHON – Riley Road Recreation Ground, Oxford Road, Marlow http://www.marlowstriders.co.uk
<![if !supportLists]> · <![endif]>Thursday 17th November 2005 – WESTON PROM RUN 5MILES – , Cabot Bars (opposite Weston College). http://www.westonac.co.uk
<![if !supportLists]> · <![endif]>Sunday 20th November 2005 – AVEBURY 8 – 10: 30 am Avebury, Wilts http://www.marlboroughrunningclub.org.uk
<![if !supportLists]> · <![endif]>Sunday 27th November 2005 – MAYLARCH EYNSHAM 10K – 10: 30 am Bartholomew School, Eynsham http://www.eynsham.org/roadrunners.html
<![if !supportLineBreakNewLine]>
<![endif]>
 (Mo – September 2005)