THE HARRIERS HERALD
No. 175, September 2007
Editor: Sue Francis
Regular updates
<![if !supportLists]> · <![endif]>Thursday night schedules for September and October
<![if !supportLists]> · <![endif]> Correspondence received in August
<![if !supportLists]> · <![endif]>Thanks to Sus, Martin, Pete, Rich and Mo for their contributions this month
<![if !supportLists]> · <![endif]>Copy date for October's Harriers Herald:  3rd October
Features and reports
<![if !supportLists]> · <![endif]>Ironman - Rich reports on his excellent performance in the Ironman triathlon
<![if !supportLists]> · <![endif]>Bearbrook 10K – well organised, but no atmosphere, says Sus
<![if !supportLists]> · <![endif]>Pewsey Half Marathon – good performances from three Harriers on a hot day
<![if !supportLists]> · <![endif]>Handicap Race – a win and a P.B. for Kirsty
<![if !supportLists]> · <![endif]>Adventure event in Bracknell Forest – Pete H reports on an 'ace race'
<![if !supportLists]> · <![endif]>Website Update – Mo investigates the use of technology in keeping fit
<![if !supportLists]> · <![endif]>Events Diary – Mo's choice of races for  the autumn months
· Burnham Beeches Half Marathon
Thursday night schedule for September
Thurs    6th        Kev to lead
Thurs    13th        Pete H to lead
Thurs    20th      Martin to lead
Thurs    27th      Mo to lead
Thursday night schedule for October
Thurs    4th        Handicap Race
Thurs    11th      Sue to lead
Thurs    18th      Dick to lead
Thurs    25th      Andy to lead
Sender

Subject matter

Action

SEAA

Info. Update #109

Chichester 10K race details

File

Events Diary & notice board

Association of GB Athletic Clubs

A letter entitled  'The failure of England Athletics' and a petition to the Minister of Sport

Pass round for discussion.  Petition to be returned by Sept. 14th

Berks County AA

New BCAA website on which clubs can advertise events etc.

Still being created at present, but should eventually be useful to us
UK Ironman 2007 – Race Report
Rich
Pre-Race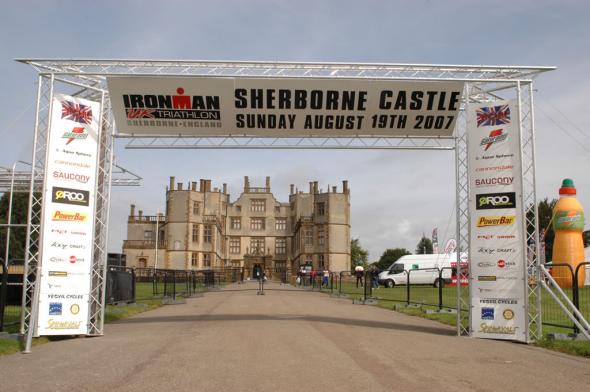 The last few weeks have been an anxious build up to the culmination of 11 months hard training to compete in Ironman UK 2007. Wondering how I would perform up against the big boys has compounded a fear of the unknown!
Since joining Compton Harriers I have seen an improvement in my running that has surprised and encouraged me. Preparation for IMUK has seen me complete the London and Barcelona marathons to gain confidence with the distance; Swim training was executed in a freezing Cotswold Lake before work and the hours spent chaffing on the bike has engulfed most weekends. Traditional English weather conspiring against the athlete!!  
Perfecting the nutritional balance for a race like this has proved as challenging as the training itself. 112 miles on a bike never seemed too appealing as long as the wonderful Penny was at home cooking up delightful treats and encouraging wine consumption!
The carefully executed nutritional plan saw me ploughing through a small amount of pasta and jars of baby food (low glycemic index – honest!) 3 hours before start time. Liquid meal Ensure milkshakes were also on the menu at as pre race nerves allowed no room for solid food! A powerbar one hour before start time expectantly sent me hyperglycemic which resulted in me talking the other athletes to death whilst they were treading water!
Arriving in the transition area at myself and 1500 other athletes were able to watch the dawn break as we contemplated the hours ahead. Unable to pump my tires up to the required 110Psi due to lack of time, worrying about the cracks in the front tire and every part of my body beginning to ache, I realized panic had set in and I needed to make yet another trip to the toilet!
Swim (2.4m) – 1:
(Info: http://iron.ironmanuk.com/default.asp?PageID=1321)
<![if !vml]>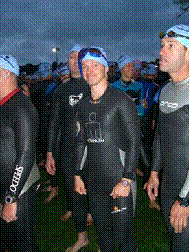 <![endif]> <![if !vml]>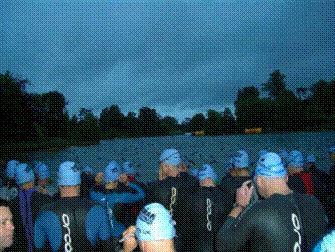 <![endif]>
<![if !vml]>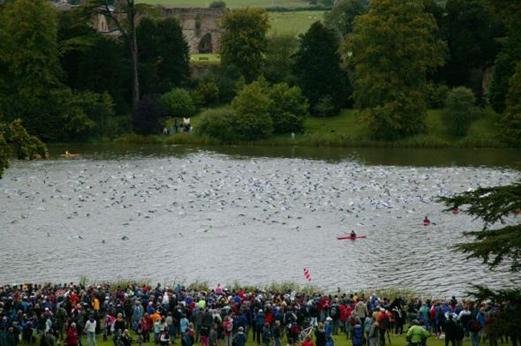 <![endif]>
Whilst on my own in the transition area, I focused on trying to keep my cool and not be too rattled by the healthier looking, larger framed human beings all around me; easily fitting their wetsuits whilst I bobbed and weaved about like a common garden grub trying to get in to mine!  Spirits were high and my fellow competitors zipped me up and gave me some encouraging words. The race commentator announced over the tanoy that it was time for athletes to enter the lake and take up the starting position 200 meters out. 
As I approached the water, I spotted Penny as part of the race crew helping the triathletes into the water and deftly fending off photographers.  After a shivering hug and a quick photo opportunity, I was ready!!!  I slipped into the water and swam out – the water was fresh, the light level was low and white fearful, faces were bright!  There was a 30 minute delay to the start of the race which compounded the nerves and made me wonder if I was every going to make the finish before the sun went down.  Penny later told me that quite a few competitors had suffered symptoms of hypothermia after the swim and one female competitor had to remain in transition for 2 hours before she was warm enough to continue. 
Over 1500 tightly packed heads gently bobbed in the lake. The deadly silence…
I positioned myself to the middle left of the crazy mammals so I would be on the outside of the swim circuit whilst avoiding the back.  The klaxon sounded and the silence turned into a surge of frenzied splashing and loud cheering.  I knew what I had to do, confident with the distance and feeling fully charged, I found my rhythm quickly and felt really quite calm.
Suddenly I felt a foot in my face, my swim mask almost being kicked off.  Treading water in a mild panic I secured the mask just as a large whale-like person started to swim over me.  I maneuvered around into a small space which allowed me to get the stretch and begin my stroke.  The first lap of the lake was a hectic fight to establish my space in the water, trying to find a comfortable pace and the correct breathing frequency for the current conditions.  I concentrated on technique and started to gain places.
 After the first lap I felt strong and no one had overtaken me. Gaining in confidence, I began to pick off swimmers and comfortably powered through to the end.  The water was a good temperature and my breathing had remained regulated.  As I finished the swim, the race crew pulled me out of the water where a stunned Penny unzipped my wetsuit (best person for the job!!!) before sending me on my dizzy way. Ear plugs had done the trick and I wasn't too disorientated.  I ran 100m through the cheering crowd into transition one, grabbed my blue transition bag and kitted myself out ready for the bike. 
Bike (112m) –
(Info: http://iron.ironmanuk.com/default.asp?PageID=3014)
<![if !vml]>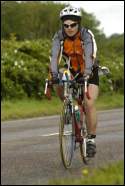 <![endif]>
<![if !vml]>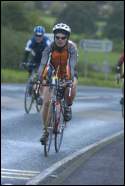 <![endif]>
I ran through the multimillion pound racks of bikes and spotted my faithful giant; number 143.  I approached the bike chanting "please please please", hoping the tires were ok and that the gears would be alright. Having had the bike serviced earlier in the week and some adjustments made, I had not been able to test it out before race day due to the horrendous weather. 
The bike was fine, everything worked as it should and I was, as they say; a jammy git!!  I set off monitoring my heart rate very carefully, aiming to keep it consistently below 140 - 150bpm so I didn't peak too early and burn out.  Hundreds of people flew past me on their super-bikes whilst I stuck to my plan; relax on the bike for the first lap and enjoy the next three making sure I didn't get a stiff neck and a sore ass! 
The predicted weather of showers never happened on the day and it remained clear and cloudy.  The down side being the mercilessly strong winds which sapped all remaining energy on the last 12m.  As well as other cyclists, there were also a number of ambulances flying past every ½ hour. I witnessed one pro-athlete clip the curb and slide down the hill on his side, nearly taking me down with him.  I sailed past him tortoise vs. hare style!!!
By the second lap on the bike I had warmed up and all my blood had restored itself to the correct places.  I dropped into the optimum aero position and picked up a little speed whilst monitoring the heart rate. 
An increase in heart rate (170bpm) on the hills negatively reduces the speed of digestion and with all of the synthetic power bar crap I was pumping into my body; this created a dip in energy.  I was determined to drink as much water as I could stomach, having mixed it with NUUN tablets to help replace the electrolytes lost through sweating.  I complimented the tabs with a SALTSTICK capsule every hour to make up the salt intake to 1gram/hour; drinking over 1.5 litres of liquid per hour. The aid stations were spaced about 12 miles apart and three per lap, providing bananas, flat cola, water, Gatorade, Powerbars and Power gels.
Nearing the end of the second lap (75m) the fun really started.  My stomach was too full and the idea of yet another Powerbar filled me with dread! The energy from gel and bananas was undoubtedly keeping me going now but mentally I was feeling completely spaced out.  Thoughts started to cloud my mind about 'what ifs' and 'what nasties still lay ahead'? I tried to just smile at the supporters, forget all the doubts and enjoy the ride.  The problems I had encountered with digestion really began to affect my performance and cause a lot of pain so I decided to slow down until I felt better. Ceasing the intake of solids and keeping my body fully hydrated seemed to re-establish some equilibrium and I put the rest down to experience!
90 miles and as I approached home on the third lap, my plan came to fruition; Cyclists holding there heads at the road side whilst I had managed to pace myself.  The winds were getting stronger and it seemed a daunting ride to get back to Sherborne Castle.  The last 12 miles were singularly the most difficult. I sustained no mechanical problems on the bike but learnt that many people had multiple punctures on the course; one guy suffered five and looked suitably pissed! 
I was buzzing as I made my way through the castle gate, allowing myself to be directed by the officials through to the transition area.  People cheering – the atmosphere seemed like pure plasma!!!  I dismounted and bow-legged it to the bike rack area relieved to get rid of the bike!  I saw Penny conveniently volunteering in transition and she managed to help organize my transition bags.  In the changing area I chatted with other athletes and had a reassuring moan about the particularly windy ride!  
Run (26.2m) –
http://iron.ironmanuk.com/default.asp?PageID=3015)
Leaving the transition tent like a whippet with three legs, fresh clothes and my trusty New Balance running shoes, I minced to the first of the run aid stations. The weather was sunny, birds were singing and my spirit was upbeat. Again, I drank the flat cola and filled my run bottle with water (+NUUN). Finally able to face solid food again I gorged myself on bananas and knocked back a gel (SIS). For the first 20 minutes, I casually jogged (looking cool!) to allow my legs the chance to start working again.
The run route passed through the campsite where the rabble was stationed. As I approached our tent village, I found out that my friends and fellow athletes Linden and Gary had pulled out of the race, one with a bad knee and the other because he had jarred his back. Our team of five had sadly reduced to three.
The bike had been a battle against the hills and now the run was looking like a nightmare just beginning, two laps of the castle followed by two laps of a legendary dual carriageway??? After the first lap of the castle I was again struck with severe stomach cramps and tried to slow the run in order to let them pass. I stopped eating any solid food and stuck once more to a liquid diet. After twenty minutes, I couldn't stop myself from thinking about how terrible I would probably feel in another 10 miles. This negative thinking lasted a good five miles before I was able to shake it loose and regain some control. Eventually the cramping eased and at the same time my feet found their rhythm. After twenty miles, I was ready for a marathon!
I passed many people walking, some in pain others had simply had enough. This is where I began to see the efforts of my cross country training come to fruition. The first ten miles were off road through fields and woodland which I thoroughly enjoyed.
The last 16 miles were ridiculous.
Having to run through Sherborne town and the grounds of an all girls public school was particularly nice! Then, I was faced with a pedestrian bridge and two laps of the most soul destroying run down a dual carriageway towards Yeovil! Over ½ marathon of miserable faces and grinding knees
Running back into the town was the finale; I picked up my pace and found an infinite amount of reserved energy. It was getting dark as I hit the town centre and the streets were eerily quiet. I had left hundreds of people behind on the dual carriageway fighting their own torments, each one pressured by the need to finish after so much they had been through.
The castle loomed into sight and the cheers of the crowd grew louder. There were increasingly more people around each corner until finally I entered the long awaited castle grounds. I nodded thanks to those people who directed their congratulations at me. There were no other runners and the crowds were all mine. The atmosphere was rich and I suddenly felt light on my feet. One man looked me in the eyes and quietly said "well done, you're there" which made me smile to myself whilst I took a deep breath and gave of a bit of a blub!!! I focused on the finish line where I spotted Penny waving and shouting and the crowd seemed to be going mental. I am sure that I floated across the finish line where I was presented my super Ironman UK 2007 medal by Penny!!!
I bounced about a bit in the penning area until I had managed to calm down and finally allowed myself the biggest face aching smile you will every see!!! Penny had managed to sweet talk the officials into allowing her work on the finish line all day presenting medals. Building a rapport with the commentators, she once again managed to enlist their help into getting the spectators to chant my name as I sprinted the final straight and crossed the finish line. J
Well worth it!
<![if !vml]>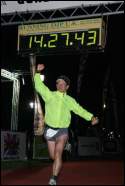 <![endif]> <![if !vml]>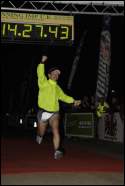 <![endif]> <![if !vml]>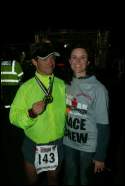 <![endif]> <![if !vml]>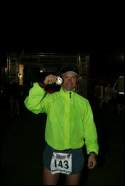 <![endif]>
After
After the race I focused my time trying to eat as much food as possible to regain strength… An effort which is worth a medal on its own!  I ended my day with a full body massage in the athlete's village before supporting the last athlete across the finish line.
<![if !vml]>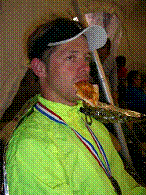 <![endif]>
  (trying to eat pizza!)
Looking back on the race, I have learnt many things but primarily that nutritional balance is so important.  My race highs and lows were almost exclusively related to the absorption of food and its impact on energy levels.  Also, it is amazing to realize how well the body can perform if you give it what it needs.  I look back now knowing that despite the low points, I thoroughly enjoyed the whole experience even though I didn't necessarily realize this at the time!!! So much so that I have just signed up for Ironman Switzerland 2008… Av it!!!
Table 1 – Winner n me!
Bib

Fore-

name

Sur-

name

Gen

GenPos

Cat

Cat

Pos

Swim

End

Rank

Trans1

Rank

Bike

Trans2

Rank

Run

Total

Rank

13

Scott

Neyedli

Male

1

M

PRO

1

00:47:07

6

00:01:53

4

4:56:55

00:01:30

10

2:48:32

08:35:53

1

143

Richard

Bickerton

Male

871

M25-29

95

01:08:46

496

00:12:16

1030

8:09:04

00:08:29

920

4:49:15

14:27:44

976
5.17 hours (average) training time per week over 57 weeks:
<![if !vml]>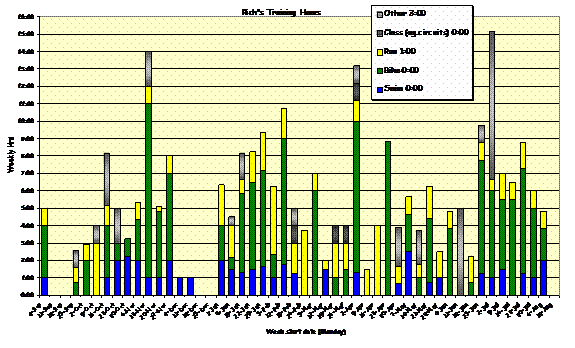 <![endif]>
Bearbrook 10K 12th August
Sus
Eight times they have done this race and everything was fine. Loads of parking with friendly marshals, changing and shower facilities, lovely refreshment, sports stall, very clearly marked finish and a goody bags with a towel and chocolates upon finish all for only £6.  So I cannot put my finger on anything!  But there was no atmosphere, no charisma, no charm– and the route was just boring and dull.  Still it attracts more than 420 runners every year so it must be just me!
1st Man            Steve Rees-Jones 32:28
1st Lady            Carol Boosey 37:22
Me 12th  lady    44:21 (sorry guys!)
Pewsey Half Marathon 26th August
Sus says: As always Pewsey running club is capable of organising a splendid race.  The route is a one-lap undulating road course, Lucy believed faster than the Burnham Beeches (I am not so sure).  I felt fine till I reached mile 9, where I started to slow down, so something to practice on.  Another thing I found that one should not neglect was how to take in a drink at one of the 3 drink stations - I nearly drowned myself.  Martin advised to stop completely and promised me that I would soon catch up again.  On this hot day it might have been a good idea though I am not sure it would have produced a better time.  It is a well organised race which I think should be done again next year - and you get a t-shirt for your effort and cake if you fancy it.
Martin says: 

The Pewsey 'arf was a well organised race, with the added bonus that the race organisers took the opportunity to show off some fine Wiltshire countryside. A very pleasant day was had by all considering this was a road race, and running 13.1 miles on tarmac feels just like 13.1 miles of tarmac.
Lucy

        

 (236th overall)
Sus

          

 (91st overall)
Martin

     

 (52nd overall)
1st runner home

       

Paul Adams

            
358 athletes completed the course
Race results in brief
Burnham Beeches Half Marathon: Ryan, Lucy and Kev all took part, with good performances all round.
Handicap Race
Since we were temporarily prevented from running on Institute land, owing to the foot & mouth disease precautions, we had to revert to our Village Lap route for August's Handicap Race.  However we adopted a new and safer start/finish area, the Village Hall frontage on Burrell Road, which proved a good option for numerous reasons.  Jan was assisted with the time keeping by Dick, who'd had his knee operation just five days previously.
Kirsty, who set off first with Mo, is in very good form at the moment.  She produced an excellent P.B., which won her the race with 70 seconds to spare.  Peter L finished a good second, in a very respectable time on his first attempt at the Village lap route.  Sue chased Peter all the way, but he pulled away along School Road.  Sue just held on to third, ahead of a fast-finishing Ryan, who recorded the fastest time of the evening.  Pete H was next home, also breaking his Handicap.  Martin, returning from injury, set a good time to finish sixth, with Lucy next ahead of Mo.  Had Mo started at his correct time, 3.5 minutes before Kirsty, he would have finished third so he gets the 5 points on the championship scoreboard.
Congratulations to Kirsty, and thanks to Jan and Dick for timing.  There will be no Handicap Race in September.  The next one is scheduled for Thursday 4th October, probably back on the off-road route, daylight permitting!
Results and championship points are on the following page.
August Handicap Race results
| | | | | | |
| --- | --- | --- | --- | --- | --- |
| Pos | Name | Start time | Finish time | Actual time | Handicap Beaten? |
| 1 | Kirsty | 0:19 | | | -1:50 |
| 2 | Peter L | 3:45 | 15:20 | 11:35 | -0:40 |
| 3 | Sue | 3:50 | 15:41 | 11:51 | -0:19 |
| 4 | Ryan | 4:18 | 15:46 | 11:28 | -0:14 |
| 5 | Pete H | 2:47 | 15:54 | 13:07 | -0:06 |
| 6 | Martin | 4:48 | 16:32 | 11:44 | +0:32 |
| 7 | Lucy | 2:23 | 17:15 | 14:52 | +1:15 |
| 8 | Mo | 0:19 | 19:05 | 18:46 | -0:23 |
After six of the nine races, the Handicap Championship table shows Sue still at the top, with Pete H second and Mo moving into third spot.
 Pos.

Name

Race points

Race 1

Race 2

Race 3

Race 4

Race 5

Race 6

Race 7

Race 8

Race 9

Total

1

Sue

4

5

2

5

6

4

-

-

-

26

2

Pete H

5

4

4

3

4

2

-

-

-

22

3

Mo

-

-

6

7

-

5

-

-

-

18

4

Kev

7

6

1

-

-

-

-

-

-

14

5=

Rich

-

-

7

6

-

-

-

-

-

13

5=

Peter L

-

-

-

-

7

6

-

-

-

13

7

Kirsty

-

-

5

-

-

7

-

-

-

12

8=

Lucy

6

-

1

1

1

1

-

-

-

10

8=

Ryan

-

7

-

-

-

3

-

-

-

10

10=

Susanne

-

2

1

4

2

-

-

-

-

9

10=

Martin

3

-

1

1

3

1

-

-

-

9

12=

Freya

-

1

3

2

-

-

-

-

-

6

12=

Dick

-

-

1

-

5

-

-

-

-

6

14

Matt S

-

3

-

-

-

-

-

-

-

3

15=

Andy

-

-

1

-

-

-

-

-

-

1

15=

Phil

-

-

-

-

1

-

-

-

-

1

15=

Amy

-

-

-

-

1

-

-

-

-

1

15=

Don

-

-

-

1

-

-

-

-

-

1

15=

Tom

1

-

-

-

-

-

-

-

-

1
Ace Race in Bracknell Forest
Pete H
Having received an email asking if I would like to join a team to take part in an Adventure Race I rather rashly agreed. The race was two weeks away which allowed little time to do any extra training and as I'd only been on three longish cycle rides all year I thought this could be a problem. The pre race details were extremely vague so I did not know quite what to expect.
Race day arrived on Saturday 11th August and I met up with my team mate Paul. Team size was a maximum of three but our other participant pulled out. The day commenced with a briefing which was well … brief! We were told to follow the marshall on his cycle for a run of unspecified distance and that eventually he would pull off the course and from then on competitors should look for coloured tape tangling from trees. In our case the run lasted 40 minutes and took us back to the transition area where we collected a map and our mountain bikes.
Stage two involved cycling & orienteering through the forest looking for well hidden checkpoints. In most cases these consisted of hole punches hidden behind trees. However there were also some manned checkpoints we had to report to so that marshals could inform us of some additional challenges that had to be completed.
The first challenge involved crossing a 30 metre wide pond with our bikes. Unsurprisingly there was no bridge and the water level came up to chest height. Once we got to the other side we then had to turn around and go back through the pond. Being an extremely hot day this was a rather pleasant experience not withstanding that my bike is on the heavy side.  A similar challenge, referred to as combat biking (sic), involved accessing a checkpoint some 80 metres from the nearest path. Needless to say the undergrowth, mainly bracken, was head height and we had to bring our bikes with us.
Next was a blindfold challenge. This consisted of holding on to your team member whose hand was guided by a marshall onto a rope at the start. It was then a "simple" case of traversing down a steep and slippery slope whilst holding both the rope and team member.  Continuing with the team theme we had to walk in unison whilst attached to two planks of wood before crawling under a scramble net.
The cycling lasted circa two and a half hours and led to a change in team tactics. Paul had cycled around the forest the previous weekend and was convinced he knew where we were going but after a lot of unnecessary mileage he agreed that we should spend more time checking the map before heading for the next checkpoint.  Following a quick change of footwear back at the transition stage we then set off on foot for the next orienteering stage. We got back to the finish area 9 minutes inside the five hour time limit.
Whilst two runs and one cycle taking 5 hours may have seemed a lot for the elite athletes there was the option of a further cycle. The organisers did say in the briefing that most competitors would not have time for the fourth stage and they were proved correct. That said I was totally exhausted after three stages and crashed out on the sun bed in our garden as soon as I got home. Not withstanding my lack of training this event was far harder than running the FLM, the steep hills made sure of that. For anyone who fancies a challenging day out I would thoroughly recommend it although at £33 each to enter its not cheap and it took over a week to publish the results on the net.
The winning team, who according to the organisers cheated on the blindfold challenge, scored 25 points to our 17 [points are awarded for locating checkpoints & challenges completed]. This resulted in us finishing 34th out of 64 teams the last of whom only scored 6 points. In view of the lack of preparation I was happy with that and n it could have been worse as some teams only completed two stages whilst two competitors ended up in hospital.
Website update… http://www.comptonharriers.org.uk
Mo
Following last month's article on the GPS system, I have been thinking about the way in which technology can assist in sports activities, be it measuring where we have been, how far we have run or the rate at which our heart beats.  Therefore, this month the theme is 'Using Technology To Keep Fit'.
Those of us who regularly monitor our fitness have the best chance of staying reasonably slim and in good shape, so if you have the time it's worth putting in the effort … and if you don't have the time then you need to find it!
Tanita Interscan products monitor everything from body fat percentage to muscle mass and make various calculations to determine total body water percentage, visceral fat rating, bone mineral mass, basal metabolism rate, metabolism age and physique rating.  The monitors work out your optimum weight according to age, sex and height by sending a small electrical signal through the body which distinguishes fat from muscle.  The Tanita website provides a wealth of information on diet, fitness and health, so if the brief summary above has whetted your appetite, the site to visit is http://www.tanita.co.uk … by the way, the average price for a monitor is around the £50 mark.
As well as being cheap and easy to use, pedometers can be a fun way of keeping track on daily activity levels.  Pedometers.co.uk provide a range of pedometers and stop counters costing from £8.95 up to £40.00. The site at http://www.pedometers.co.uk   also has a range of other products such as compasses, step counters, altimeters, map measurers, blood pressure and heart rate monitors.
One of the keys to good health & fitness is exercising at the right intensity … this is where heart-rate monitors come into their own.  A way of determining the appropriate intensity of training according to heart rate, is to use the Karvonen formula. This formula calculates your training zones by taking into account your resting heart rate (see below for working out your resting heart rate) and your maximum heart rate. Your resting heart rate is a good indicator of current fitness level so this method takes into account both your age and current fitness level. First of all you subtract your resting heart rate from your maximum and then work out the heart rate percentage at which you want to work i.e. 60%-80% before adding your resting heart rate back on to that figure.

Fore example, if your resting heart rate is 60 beats per minute and you are 40 years old.
Step 1. (220) - (your age) = MaxHR                                                                   220 – 40 = 180 (MaxHR)
Step 2. (MaxHR) - (resting heart rate) = Heart Rate Reserve (HRR)                   180 – 60 = 120 (HRR)
Step 3. (HRR) x (lower training percentage 60%) = Lower Training Zone Percentage of HRR
                                                                                                                        120 x 60% = 72
Step 4. (HRR) x (upper training percentage 80%) = Upper Training Zone Percentage of HRR
                                                                                                                        120 x 80% = 96
Step 5. Lower Training Zone Percentage of HRR + Resting Heart Rate = Lower Heart Rate Zone Target
                                                                                                                        72 + 60 = 132
Step 6. Upper Training Zone Percentage of HRR + Resting Heart Rate = Upper Heart Rate Zone Target
                                                                                                                        96 + 60 = 156
Therefore to train with your heart rate in the 60% to 80% zone you will need to keep your heart rate between 132 beats per minute (bpm) and 156 bpm

Many of today's heart rate monitors will automatically calculate these zones for you once you have entered your personal information. Sites to visit for products and information are http://www.heartratemonitor.co.uk and  http://www.redlionsports.co.uk
<![if !supportLineBreakNewLine]>
<![endif]>
(Mo – Sept 2007)